Xbox's Major Nelson has just revealed another slew of features for the New Xbox One Experience, a.k.a. the NXOE, but this time around not all of them are good news. Well, to be fair, only one isn't. Despite having hyped about how Cortana will help gamers stay on top of things even in the middle of gaming, it seems that such gamers will have to wait a bit longer to experience that. When Microsoft releases NXOE later this year, Cortana will only be available as a preview, with a full rollout happening only next year.
Delays are a fact of life in software development, so this news isn't exactly shocking but still disappointing. Then again, it's not exactly certain how much Xbox One gamers have been looking forward to this peripheral feature of the gaming experience. Interestingly, Microsoft doesn't devote that many words to "announcing" the delay, in stark contrast to how it was been singing about the upcoming feature, which would have landed together with the major Xbox One updated in November.
"For those who have asked about Cortana, our plan is to add Cortana to the Xbox One experience preview later this year. From there, we'll ensure that the experience is tuned for gamers before we officially launch Cortana in 2016."
No reason has been given for this change in target dates but there has been speculation it might be related to integration with Kinect. Though not yet explicitly stated, it was earlier reported that the Xbox One will reqiure a Kinect for Cortana's voice-enabled controls to work. Those who bought the earliest Xbox One which had the accessory bundled will have little to worry about that but those who purchased the console solo will find themselves a bit left out.
The latest preview does bring some good news as well, at least for users of the Xbox Beta app for Windows 10. For example, gamers will be able to read and reply to messages right from the notification instead of having to click through it. Less context switching, less wasted time.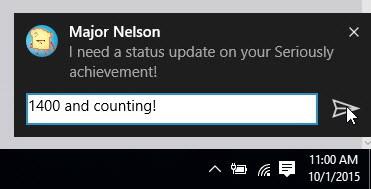 The beta preview also introduces party text chat, which adds one more way to socialize other than voice chat, real-time activity alert notifications, and sharing from the activity feed, truly making the Xbox One update the most social update Microsoft is doing for the gaming platform.
SOURCE: Major Nelson