Xbox One S leaks: 40% slimmer console with 4K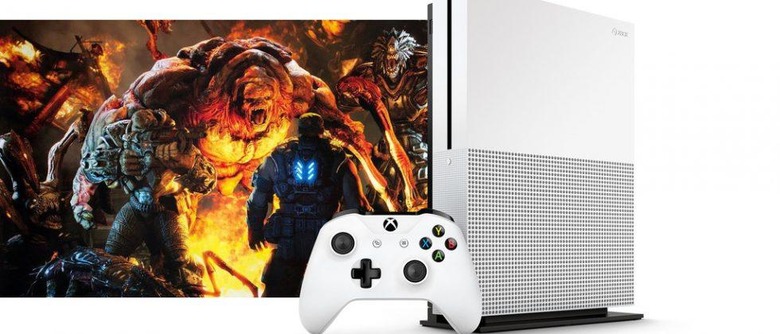 Microsoft's next Xbox console has leaked ahead of the company's E3 2016 press conference, the Xbox One S, a smaller but more potent version of the current machine. Long-anticipated for this year's E3, the new console's most noticeable change over the existing model is its reduced size – the name is almost certainly a play on "Xbox One Slim" – apparently 40-percent smaller than today's Xbox One.
Thanks to leaked photos shared by NeoGaf forum members KawabataSan and ekim, we also know some of the headline specifications of the refreshed console.
As rumored, there'll be resolution support 4K Ultra HD, apparently – likely a change in the HDMI port the console uses – though of course that will require games with Ultra HD support too, not to mention a compatible TV.

Meanwhile, there's also said to be a 2TB hard drive and High Dynamic Range support. The controller has supposedly been "streamlined", and there's now a vertical stand to prop the Xbox One S upright.
While the console itself is said to be considerably smaller than the existing Xbox One, there'll be a side-effect reduction in size too, with NeoGaf's ekim suggesting that the power adapter will be integrated into the console this time.
The current Xbox One uses a sizable external power brick. Another minor change is that there's now a USB port on the front of the Xbox One S; the existing Xbox One has a side-mounted port, but no front ports.
It's unclear at this point whether, as well as this white console, there'll be a black Xbox One S available too. Also unknown is pricing, though the consensus appears to be that Microsoft is unlikely to change it from the current model.
Interestingly, this may not be the only new console Microsoft brings to E3 this year. Previous leaks have suggested there's at least one more model in the pipeline, potentially with a boost in performance.
We'll know for sure in just a few hours, with Microsoft's press conference set to kick off at 9:30am PT on Monday, June 13.
SOURCE Neogaf