Xbox One prototypes show Microsoft's outlandish 3D printing journey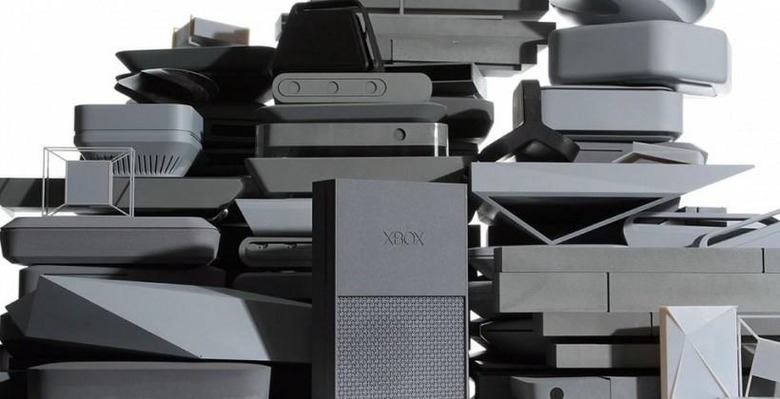 Microsoft has shown off the handiwork of its 3D prototyping for the Xbox One, revealing the stack of rapid-prototyping samples the company went through as it refined the next-gen console's design. Showing off the 3D prints at the Worldwide Partner Conference 2013 this week, Microsoft discussed its more than 200 mock-ups of the Xbox One controller and "dozens and dozens" of core hardware ideas, as it turned to the latest in prototyping to streamline the process.
"We found that, when people put these [controller designs] in their hands, [they] could tell the difference between a 10th of a millimeter in size" Xbox creative director Carl Ledbetter told Polygon. The team of roughly thirty people started by sketching out possibilities then sent them to the in-house model shop next door, where physical versions of the designs could be created.
The models, Ledbetter says, were then deployed into real-world settings, to see how well they worked. Meanwhile, the engineers tested for exactly how practical they would be, and whether they would accommodate the internal hardware for the Xbox One required.
Some of the designs are more outlandish than others. Although the angular shapes that made it through to the production Xbox One are clear in many of the prototypes, Microsoft's team also flirted with curves, Stealth Bomber-style planes, and even a suspended "X" design.
The main goal, though, was to get something that worked under the TV and wasn't too distracting. "How do we make the font look high quality," Ledbetter said of one of the challenges, "just like the high definition televisions in people's living rooms?"
Some of the production processes Microsoft settled on are surprisingly advanced. For instance, the colored buttons on the Xbox One controller are injection-inserted to keep them vivid, while two different types of motor are used for rumble effects and completely new springing has been introduced for the sticks compared to the Xbox 360 pad.