Microsoft's design decisions around the Xbox One have already prompted some arguments, with the company coming out fighting to defend the slab-sided console; now, it's the turn of the new Xbox One controller to get detailed. The wireless gamepad was the culmination of 20 research studies spread across the globe, according to Microsoft, with more than 500 people giving their feedback and over 200 prototypes getting worked up.
One of the most obvious changes from the Xbox 360 controller is the addition of Impulse Triggers: specific vibration motors for the trigger buttons. In fact, the gamepad has a total of four motors, two small ones for the two triggers, and two larger ones in the grip sections for more general rumbling.
It's not just about a greater range of strengths, either; the Xbox One team says that, thanks to minute control over which motor triggers and when, there's more "in-game directionality and depth" for players, with a better sense of gameplay through their hands.
Other senses have also been amped up, with higher-quality audio support thanks to a fatter wireless pipe between controller and console. In fact, Microsoft claims that team conversations over Xbox LIVE can potentially be clearer than a phonecall.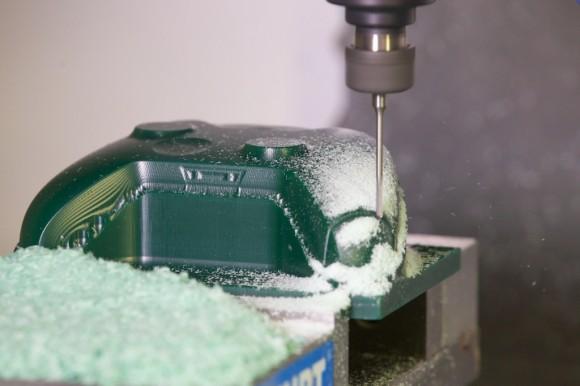 Some of the changes, though, are more subtle. The D-pad has a tweaked cross-shape, making sweeping movements cleaner, and the A/B/X/Y keys are more tightly spaced so that less thumb shifting is required. Adjusted thumbstick tension makes them 25-percent easier to move.
Even how the Xbox One controller communicates with the console itself has been finessed. There's a wired option – a case of plugging in a mini-USB cable, which automatically shuts off the radios – while when wireless the always-on Kinect sensor can track each controller and even switch around the split-screen layout if the players swap places in front of the screen.
Of course, the hands-on approach is only part of the control system for the Xbox One, with Microsoft also throwing a lot more effort into motion-tracking and speech recognition. Thanks to the updated microphone array and more accurate cameras in the Kinect, gamers will be able to do more with gestures as well as instruct their consoles to switch between gaming and TV modes, hunt down channels and shows, and trigger other features, simply by asking for them out loud.