Microsoft's Illumiroom immersive lighting system didn't arrive alongside the Xbox One, but that hasn't stopped impressive DIY efforts integrating the console with Philips' remote control hue bulbs. The handiwork of one enterprising gamer, the system may not have the same gameplay-extending scope as Microsoft's concept – which uses a projector to actually expand what's on-screen to the surrounding environment – but it does promise to make gaming more engaging by dynamically adjusting the ambience of the room according to the game.
Full details on the setup haven't been shared, though it seems to be similar to Philips' own Hue Ambilight system. That was updated earlier in the year so that an Ambilight TV – which has colored LEDs around the rear of the panel, shining light that matches the dominant on-screen tone onto the wall behind the set – can also command hue bulbs in the same room.
That differs from Illumiroom, which combined a projector and a Kinect sensor to dynamically overlay 3D graphics and lighting onto the room. Billed as a proof-of-concept, it could fill a room with virtual snow or even allow objects on-screen to "fall out" of the TV.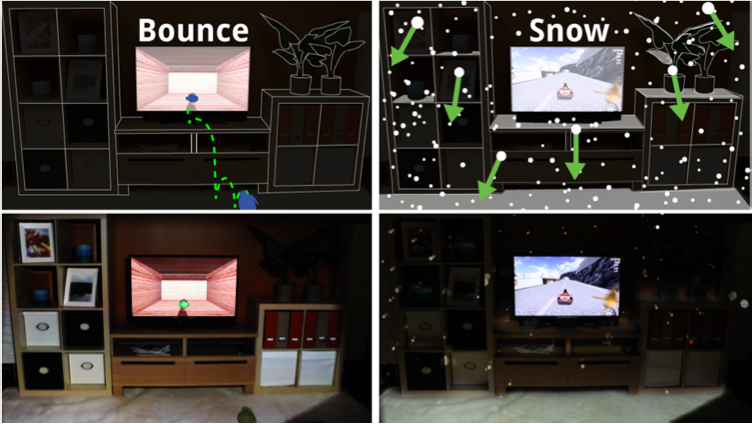 The hue bulbs, each capable of showing a different color, aren't up to that sort of detail. However, Geek suggests, a tie-in between Philips' existing lighting API and Microsoft's Xbox One titles could allow game developers to specify key colors – flashing blue for police lights, perhaps, or flickering red for flames – for bulbs nearby to show.
hue's API, launched to developers in March this year, has already been used as a discrete notifier for web services and more. However, other third-party smart home companies, such as Revolv and IFTTT, have also used the access to bridge lighting control to their own applications.
Whether Microsoft would be willing to open up the Xbox One in such a way remains to be seen, though the company has positioned the console as more of a home entertainment platform than solely a games machine. As we found in our Xbox One review, just as much attention has been paid to how it performs showing multimedia as how it does more traditional console duties, with voice control among other things.