WWDC is coming: set your Apple TVs and Apple Watches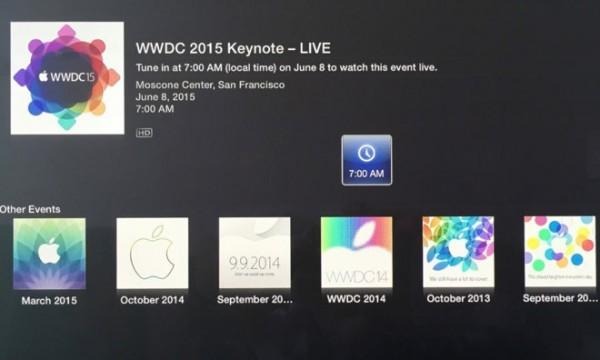 If you've had your fill of all things Google and Android last week, this week would be the perfect time to digest and detox because next week will be another belly bursting service of tech. Yes, it's time for Apple's annual Worldwide Developers Conference, lovingly abbreviated to WWDC, taking place on June 8. Unsurprisingly, Apple has updated its Apple Events channel on Apple TVs to reflect the fact that the keynote will can be viewed from the Apple TV, which is expected to get a refresh during the event.
The seynote starts at 10 a.m. Pacific (7 a.m. Eastern) on June 8, so those with second or third generation set-top boxes better clear their schedules. And they might not want to miss this one, especially if they're a big Apple fan. Among the the expected announcements to be dropped is a shiny new Apple TV, complete with a touchscreen remote control and a music streaming subscription.
That said, it almost also feels tragic because one expected treat for the Apple TV might not make it in time. Apple has long been rumored to plan on offering a Web-based TV service, which would be annonced at WWDC this year as well. Sadly, those pesky licensing deals are said to be blamed for the delay of its launch.
Also predicted to be making their debut is a new iOS 9 and OS X 10.11, though these, of course, won't roll out until later this year. If you're expecting some large iPads or a new iPhone, however, you might be a few months too early. Those will be showing up in September.
So fans and curious onlookers will be able to watch the keynote on their Apple TVs, though there is usually also a live feed on Apple's website for those who don't have one. Developers can continue their coverage of the sessions via the Developers portal. And those with Apple Watches can get notified of schedules via the companion app.
VIA: Apple Insider