WowWee Rovio Gets Mind Control With Emotiv Headset [Video]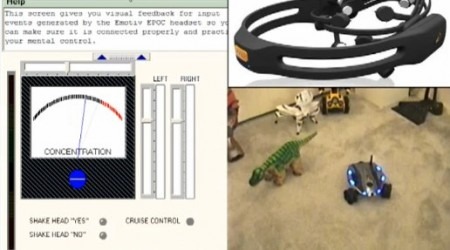 WowWee's Rovio has already seen several DIY remote control hacks – whether it's from your Android phone or via an E Ink board – but this is perhaps the best yet.  Robert Oschler has hooked up an Emotiv Epoq EEG headset allowing him (with some nifty software in-between) to control Rovio using thoughts, facial gestures and head movements.
Video demo after the cut
The Epoq headset is billed as an alternative gaming controller, but as the first reviews suggested the experience can be frustrating.  It looks as though Robert's setup is more usable, however, hooking into the Emotiv SDK with his new Robodance 5 software; bizarrely, that means to move Rovio forward, he has to feel a little stressed and anxious:
"After some experimentation I found a mood that I could easily summon was a combination of worry and sadness, a strong particular brand of feeling squarely behind my eyes" Robert Oschler
Robodance 5 uses Skype to bridge the connection with the (WiFi enabled) Rovio, and so it doesn't make any difference whether you're in the same room as the robot or halfway across the world.  It also supports real-time video and audio streaming.  Version 5 of the software should be available in late May.