WowWee Cinemin Swivel pico-projector to arrive September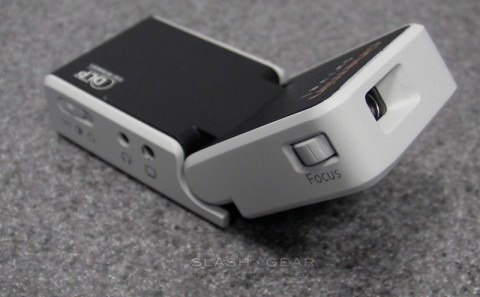 WowWee's Cinemin Swivel pico-projector, which was announced back at CES in January, has been given a release date and UK pricing.  Expected to hit UK stores in September 2009, the posable projector will retail for around £349 ($572); US pricing and availability is still unknown, though it is expected in fall 2009 priced at $299.
The Cinemin Swivel is a compact battery-powered projector capable of 480 x 360 resolution.  Runtime is estimated at three hours, which is good for a pico-projector, and the flexible neck means it can be easily directed at walls or the ceiling. 
Input support includes Apple's iPod and iPhone, other PMPs and laptops, though it's unclear if the latter relies on a video output or VGA.  The former seems more likely.  No word on when we can expect to see WowWee's other projector products – the higher-resolution Cinemin Stick and the iPod-dock-bearing Cinemin Station – reach the market.