CES 2009: WowWee Cinemin Swivel, Stick & Station Pico-Projectors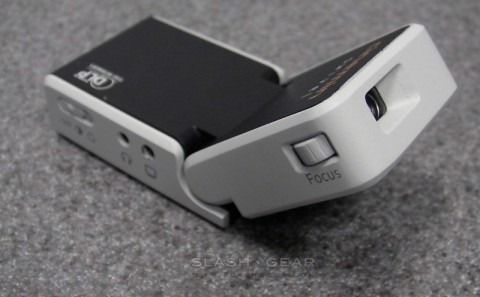 WowWee have announced a new range of pico-projectors, based on Texas Instruments' DLP chipset.  The three new products range from straightforward projector handsets, as already on-sale, to a combination pico-projection boom box.  The WowWee Cinemin Swivel, shown here, will hit the market first, offering 480 x 360 resolution, three hour battery life, a poseable neck for projecting on walls, ceilings or anything in-between, and a standard video input suitable for iPods, laptops and other devices.
As for the Cinemin Stick, that loses the poseable neck but gains extra pixels, being as it is capable of 800 x 480 resolution.  It also has an SD slot together with the standard video input.  The Cinemin Station is a larger affair, with integrated stereo speakers and a flap-down iPod dock at the front, headphone jack, audio/video inputs and 4:3 native aspect ratio.  Codec support has not been finalized on the two products, but expect the usual suspects of MPEG, AVI and similar.
The Cinemin Swivel will land in Spring 2009, priced at $299.  As for the Cinemin Stick and Cinemin Station, they'll arrive come the Fall, priced at $349 and $399 respectively.