Wonderbook: Book of Spells lands on November 13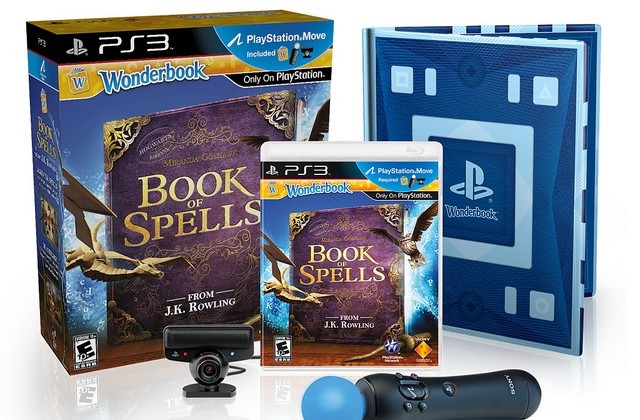 Sony's new Wonderbook project has left some scratching their heads, but if you're a Harry Potter fan, you may be pleased to know that the first game in the Wonderbook series will launch on November 13. That first game is dubbed Wonderbook: Book of Spells, and in it, players will use the augmented reality capabilities of the PlayStation Move and Eye to learn about and cast spells from the Harry Potter series, including Incendio, Wingardium Leviosa, and Harry's own signature spell, Expelliarmus. Dark wizards should probably look elsewhere, as we doubt the family-friendly nature of Wonderbook: Book of Spells will allow for incantations such as Crucio and Avada Kedavra.
To help celebrate this launch date announcement, the folks at Sony have pulled together a developer diary all about Wonderbook. In this first dev diary, we get a behind-the-scenes look at the evolution of the idea behind Wonderbook, and how the developers came up with the product some of us will be taking home on November 13. Regardless of your feelings about Wonderbook, the video is actually quite interesting, so it's suggested that you give it a watch.
When Wonderbook: Book of Spells arrives on November 13, it'll come in two different forms. If you already own a PS Move controller and a PS Eye camera, the game and the book will be available in a standard package that runs $39.99. For those who are new to the realm of motion gaming on PS3, Book of Spells also comes in a bundle pack that includes the game, the Wonderbook peripheral, a PS Move controller and a PS Eye camera for $79.99. Those are some pretty attractive prices, especially if you already have a Move controller and an Eye, so even though some may be wondering why Sony is even releasing Wonderbook at all, the company can probably count on some pretty healthy sales.
That's the thing too – hardcore gamers won't understand what Wonderbook is all about, but that's okay because it isn't aimed at them. One look at the developer diary above and you can tell that young children are going to be all over this, and the team-up with J.K. Rowling to make a Harry Potter-themed Wonderbook game certainly won't hurt. Who's picking up Wonderbook: Book of Spells when it launches on November 13?
[via US PlayStation Blog]