Windows Phone App Studio cuts the codes for new developers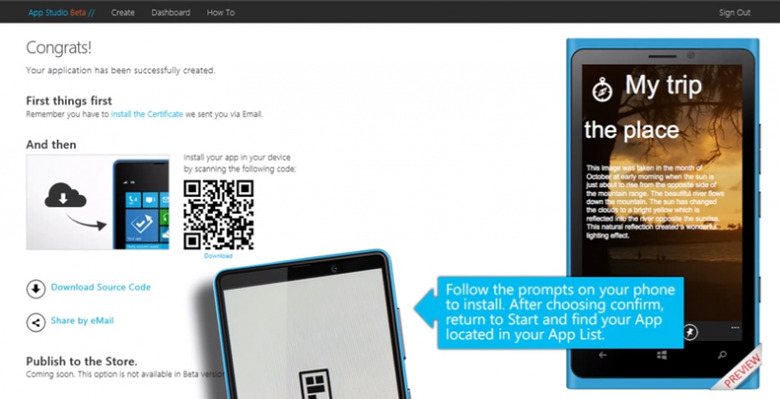 This week Microsoft has made another grand effort to pull in developers for its mobile device ecosystem, revealing the Windows Phone App Studio for Windows Phone 8. This environment is aimed directly at developers, made for everyone from those struggling to create code to those that are, at this point, veterans to the Windows Phone app development game. This environment is web-based and is being delivered with a "Summer Break" deal for new developers wishing to jump in on the development inside the season we're taking part in now.
Inside Windows App Studio, users will be able to create apps without coding at all. You'll be starting out with a Microsoft account – necessary for this whole process – moving on to a template, then kicking out creations with your own unique content.
Each template is customizable and from what we've seen thus far, the Windows Phone App Studio appears to do the bulk of the work.
This week also plays host to the start of Microsoft's rule change in which any developer will be able to unlock and register 1 phone to load up to 2 apps. Each registered developer with a Dev Center account, on the other hand, will have the option of unlocking a total of 3 phones on which they can load 10 apps – that's 10 apps each for a total of 30.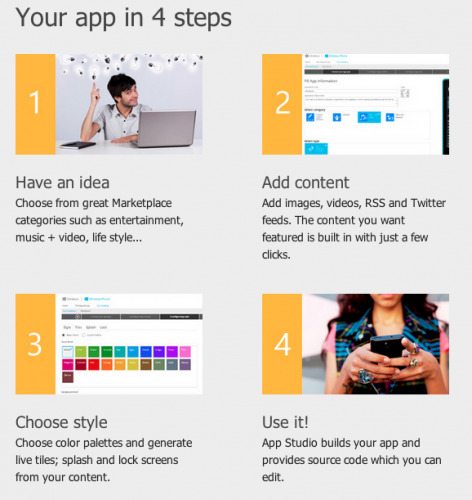 Microsoft has further aimed at enticing developers with some relatively new numbers for the Windows Phone 8 universe. One of these high marks is the release of the industry-first 41-megapixel lens-toting Nokia Lumia 1020 (this being the first time such a camera is attached to a non-Symbian, aka Nokia Belle, smartphone – coming up on the Nokia 808 PureView several years later.)
Microsoft also touts the release of the Nokia Lumia 625 and makes known that 1 billion transactions have been made in Windows Phone in under six months. They go on to note that every download of an app on Windows Phone before that, leading up to 1 billion, took five times that period to complete.
Could it be that Microsoft's mobile operating system is finally taking off?