Windows Phone 7 launch on Monday October 11 - Join us there!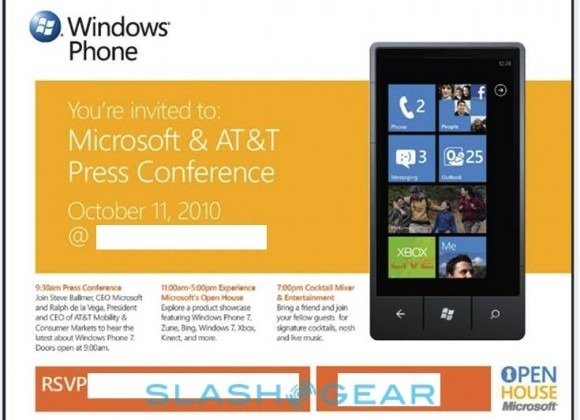 Windows Phone 7 is almost upon us, with Microsoft holding not one but two events on Monday, October 11 – one in London, UK, and then another later on in the day in New York City, USA.  SlashGear will be bringing you all the news from both events, including a liveblog of the NYC launch, where hopefully Microsoft – and their handset and carrier partners – will be telling us everything we want to know about the new smartphone platform.
The past six months have been peppered with leaked smartphones, carrier details and other news, from handset manufacturers including HTC, Samsung, LG and more.  Meanwhile we brought you a technical preview of Windows Phone 7 ourselves back in July, when the OS was already showing promise.
Of course, it's not just Windows Phone 7 that Microsoft is tipped to be talking about on Monday; there are also rumors of a consumer Windows 7 tablet announcement being made in NYC as well.  Whether that will be a sneak preview of hardware due to ship in time for the holidays, or simply a roll-call of participating OEMs remains to be seen, but join us on Monday October 11 for all the news and at http://live.slashgear.com/ for the full liveblog!