Windows Mobile 6.5.1: Windows Phone salvation can't come soon enough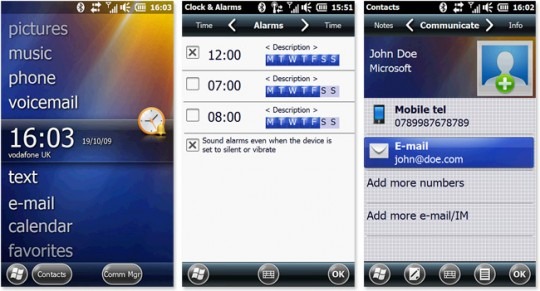 With Windows Mobile 6.5 proving less than a total success in reviews, and the most hotly anticipated Windows Phone seemingly achieving that status by throwing out Microsoft's UI and replacing it with one schooled on another platform altogether, now seems as good a time as any to ask what happened to the tweaks in later pre-launch builds.  istartedsomething's Long Zheng has pointed out that some of the more finger-friendly adaptations – such as the moved Start button and narrower status bar, shown here in OSNN.net's screenshots – are in fact being reserved with Windows Mobile 6.5.1, an incremental update with no known official release date but already available for various devices through forums.
Windows Mobile 6.5.1 isn't the official name for the update, just that given to it by the forum communities, and they've been instrumental in developing reasonably stable releases for a variety of Windows Phones.  xda-developers is, as ever, a good place to start to see if whatever Windows Mobile device you're using is supported; the end result may be better use of screen real-estate, less recourse to the stylus, more attractive and usable check-boxes, radio buttons and page toggles, and an improved contacts app.
As for an official release, rumors back in July suggested that Microsoft aren't planning to launch 6.5.1 – or whatever it ends up being called – until January 2010.  Unfortunately by that point, HTC will have broadly released the HD2 in Europe and be thinking about (or even moving on) their US launch, and we're not sure 6.5.1 can compete with it.