Windows Marketplace for Mobile dev details released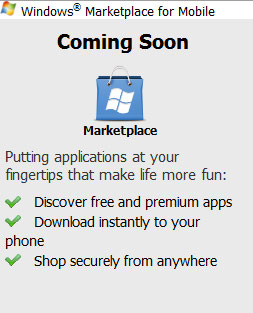 Microsoft have released operational details of the Windows Marketplace for Mobile, including fees for developers hoping to distribute their applications via the system.  Both paid and free software will be available, with a $99 yearly registration fee for developers; 70-percent of app revenue will go to the developer themselves.
The yearly registration fee includes up to five submissions to the Marketplace; subsequent submissions are charged at $99 per app.  Student developers can bypass the fees by signing up to the Microsoft DreamSpark program.  As for the price of each individual app, that can be set by the developer themselves.
Microsoft seem to be taking a middle-ground of testing and approval between Apple's draconian App Store policies and Google's hands-off Android Market.  Windows Mobile applications will run a rigorous certification and testing process before applications reach the Marketplace, complete with comprehensive feedback throughout the certification process, but there's no mention of "banned" software.
The program will open in the Spring, and the Windows Marketplace for Mobile will be available in 29 countries.  More information available at http://developer.windowsmobile.com/
[via WMpoweruser]