Windows Marketplace for Mobile 'coming soon' says portal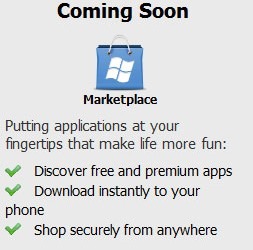 A website for the Windows Marketplace for Mobile, Microsoft's answer to the Apple App Store, has gone live, complete with a mobile-formatted layout and the promise that downloads will be "coming soon".  Announced at Mobile World Congress last month, the Marketplace will offer developers a straightforward way to reach would-be users, with on-device downloads and increased publicity.
What's currently unclear, though, is what format the new Windows Mobile Marketplace will take.  Although Microsoft played their cards close to their chest at MWC, the assumption had been that the store would be a standalone application.  This new website could be a sign that Microsoft have instead gone for an internet portal.
Such a portal would have benefits, in that it could be accessed not only by the new breed of Windows Mobile 6.5 devices expected later on in the year, but by smartphones running Windows Mobile 6.1 and earlier.  It would also be easier for Microsoft themselves to manage.
On the downside, however, is the fact that an online portal store lacks the finesse of a standalone client.  It would not offer multiple simultaneous downloads, for instance, nor offline browsing, and software updates would be left to individual apps to handle rather than centralized in one place.
Hopefully this new site is merely the first stage of the process, and may be the point of call for existing owners to access an eventual download client once Microsoft officially launch the Windows Mobile Marketplace.  You can find the page at http://client.marketplace.windowsmobile.com/.
[via coolsmartphone]