Windows Blue is Windows 8.1 insider claims (and expect it in a few months time)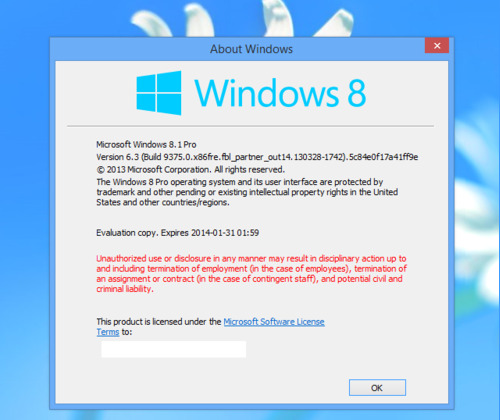 Microsoft's Windows Blue will launch as Windows 8.1, new leaks suggest, not Windows 9 as some have predicted, with the top-level branding still expected to be Windows 8. The update, tipped to be released to manufacturing this August, will stick closely to Microsoft's existing OS branding, sources tell ZDNet, though as per previous nomenclature around Windows Phone, will make only minor reference to the .1 incremental change.
According to Twitter's Roman L. and the screenshot from Winforum.eu he posted above, meanwhile, Microsoft has already begun referring to Windows 8.1 (or, in this case, 8.1 Pro) by the Windows 8 name in its latest builds. The screenshot apparently comes from build 9375, and if legitimate is one of the more recent 8.1 escapees.
Windows 8 won't be the only platform to get a splash of color, either. According to the source, Windows RT – the version of the OS designed for ARM-based processors, and most notably used on the Microsoft Surface tablet – will also get a Blue update. That will be referred to as Windows RT 8.1, it's suggested.
Microsoft has previously confirmed that Blue is a Windows update, but beyond that has been tight-lipped on what exactly PC users can expect. It's unclear whether the .1 update will be a paid one or not, too.
However, leaks earlier this year did flesh out the rumors with some feature possibilities, including extra personalization support, new split-screen layout support, and a range of new preloaded apps.