Windows 8 Release Preview dated for first week of June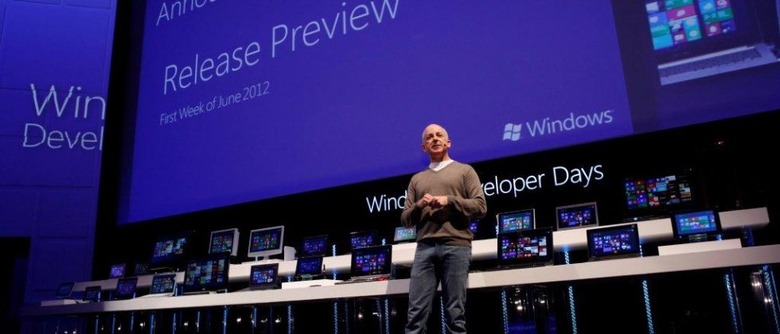 Microsoft will release the Windows 8 Release Preview in the first week of June 2012, the company has confirmed, one further step to the new OS' full release in the second half of the year. The new date was confirmed in Japan at a Windows 8 Dev Day, with Microsoft taking to Twitter to confirm the schedule on its "Building Windows 8" account.
The Release Preview is generally the final stage on the pre-release timetable before the full commercial launch. Microsoft currently offers the Windows 8 Consumer Preview for free download, gathering feedback and bug reports as users eager to try out the new OS test it on their computers.
The differences between the Consumer Preview and the Release Preview haven't been fully detailed, though the expectation is greater stability at the very least. In a moment of mild embarrassment, Microsoft admitted that it had gaffed on the logo choice; in the slide shown above, the company has used the old Windows logo, rather than the new, squared off version.
Last week, Microsoft confirmed the various different versions of Windows 8, including Windows RT, the release previously known as Windows-on-ARM, and headed to low-power ultrabooks and tablets. It won't all be ARM in slates, however; Intel is believed to be working with around ten tablet manufacturers to include x86 chips in their upcoming Win8 models.