Windows 8 Ready For Full HD Tablets Already In Pipeline [Video]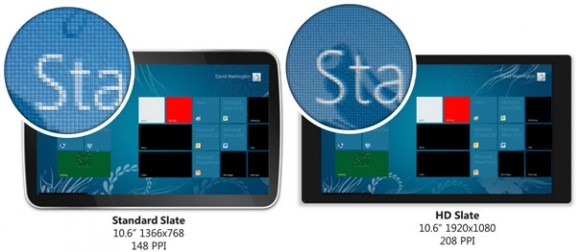 Windows 8 paves the way for Full HD tablets, Microsoft has ensured, with execs hinting that high DPI (dots per inch) models are already being readied behind the scenes. Microsoft's BUILD conference may have started with a bang, in the shape of the big Windows 8 reveal, but there are tidbits aplenty from the sessions afterwards. The company has added native scaling support for Metro apps, istartedsomething reports, which Jensen Harris of the Windows User Experience team suggests is in preparation for 208 DPI slates and above.
Whereas current 10.6-inch, 1366 x 768 tablets run at around 148 DPI, the trend is toward higher-resolution panels. Apple is expected to introduce a so-called Retina Display for the iPad 3, for instance, following the iPhone 4 in boosting pixels so as to produce more detailed, smoother on-screen graphics.
A Full HD 10.6-inch 1920 x 1080 tablet runs at 208 DPI, Microsoft points out, and so there's support for vector graphics along with automatic selection from differently-rendered graphics resources. That means developers will be able to load a selection of UI components tailored to varying resolutions, and rely on Windows 8 – specifically WinRT - to pick the best one to suit the display in use. More on this is in the video from BUILD below.
Meanwhile, Microsoft is also addressing concerns about touch-accuracy in Windows 8, optimizing on-screen contact points so that finger control can be just as precise as a digital stylus. Built-in error correction uses a larger "touch area" around the actual point of contact on the touchscreen, istartedsomething reports, with the OS calculating which aspects of the UI within that area are touchable and then deciding which it is that the user is likely to be aiming for. That should reduce issues observed in touchscreen implementations of Windows 7 and earlier, where resizing windows and hitting smaller icons like minimize buttons was an exercise in frustration.
Metro UI design considerations:
Touch-optimized Metro UI apps: