Windows 8 on NVIDIA, Qualcomm, TI, and Intel at Consumer Preview event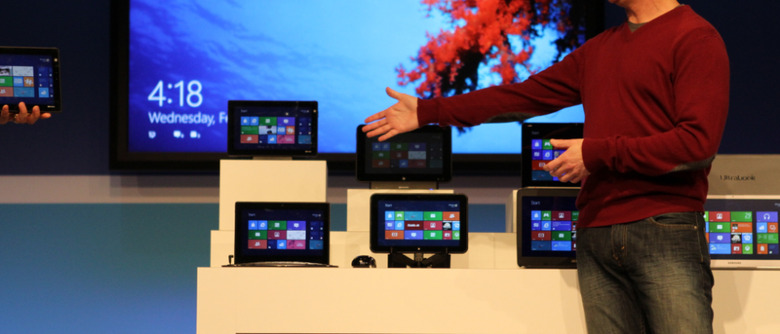 This week Michael Angiulo of Windows Planning held aloft an early build of a device made to show off Windows 8 Consumer Preview running on an ARM-based architecture – namely NVIDIA's own Tegra 3 quad-core SoC. Also on stage was a device running Texas Instruments OMAP 5, Qualcomm's Snapdragon S4, and an Intel Clover Trail tablet as well. As Angiulo held the Tegra 3-toting tablet on stage he noted, "It's not only great for browsing the web, its great for apps as well."
Each of the tablets being shown on stage this week at the Windows 8 Consumer Preview event are developer devices, each one with, for example, the name of the processor or manufacturer of the processor on their back. The operating system is working in full force on each one of these tablets, showing the OMAP 5 playing a game with no delay, the Intel tablet turning off and on in the blink of an eye.
"these are devices that partners get to develop either PCs or applications. We've got a seeding program for a specific set of hardware and software developers in the works that's very exciting [for these devices.]"
We'll be up for the rest of the event here in Barcelona and you can follow us through our [MWC 2012 portal] and [Windows 8 portal] today and through the week!