Windows 10 privacy revamped: Creators Update to streamline settings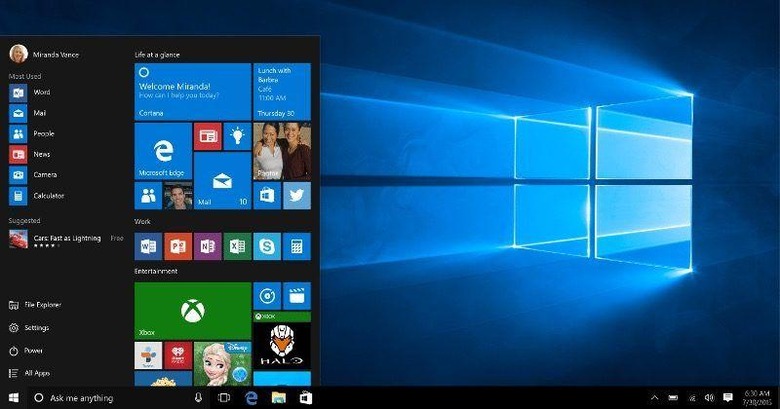 Microsoft's Windows 10 Creators Update isn't just bringing new features, but a revamped privacy system that the company hopes will settle concerns about ads, location sharing, and more. Although the Creators Update isn't expected to arrive for Windows 10 fans until around April 2017, Microsoft has been detailing some of the tweaks and improvements, both in individual settings and how those settings impact the overall experience. Meanwhile, there's a taste of the new focus on privacy available to try today.
That comes in the form of a new Microsoft privacy dashboard. Once you've signed in with your Microsoft account, it becomes a single place to monitor – and clear – all the data the various services you use have been tracking. That includes browsing history, search history, and location activity, along with anything Cortana has been logging in the virtual assistant's Notebook, the database of personalization it relies upon to finesse its results and suggestions.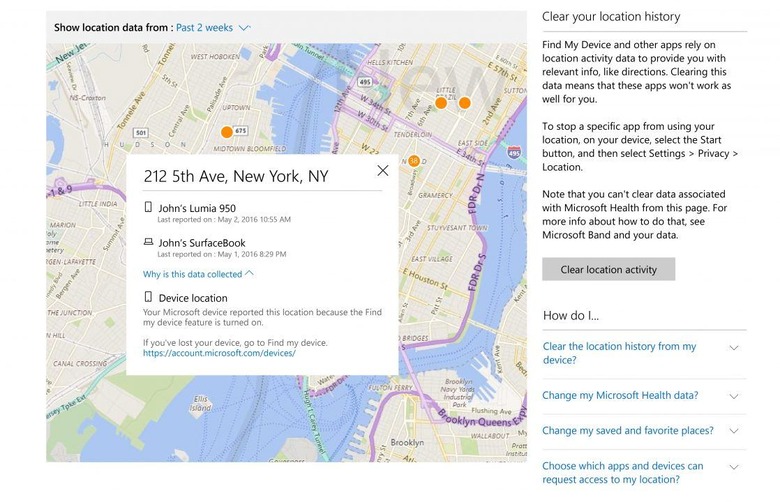 So, for instance, Microsoft will show the last known location it has stored of any Windows 10 or Windows 8.1 devices that are logged into your account, in addition to such data from Bing and Microsoft Health. If you've saved favorite places in an app or service, or added your address as part of a stored payment method, that too will be shown. It's possible to clear most of that data from the new privacy dashboard; alternatively, if you need to go somewhere else to do that – such as wiping your Microsoft Health tracking – there'll be easier instructions on how to go about it.
The meat of the improvements Microsoft is making, however, will arrive with the Windows 10 Creators Update later in the year. For a start, there'll be a new setup system – replacing the Express Settings familiar from current versions of Windows 10 – that makes it more apparent exactly what you're agreeing to and, conversely, what you'll be missing out on if you switch off each option. Exactly how it looks and what options will be listed will depend on whether you're upgrading from a previous version of Windows or doing a fresh install, Microsoft says.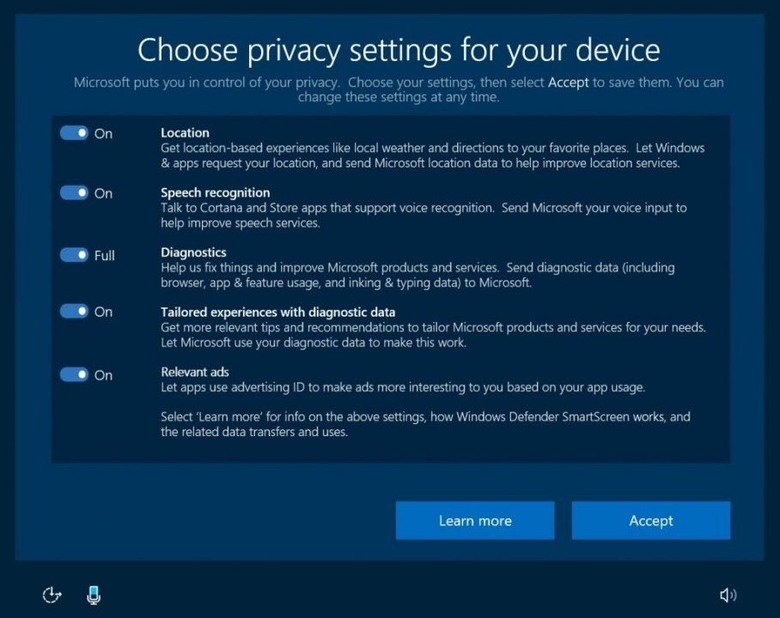 Meanwhile, Microsoft has pared a level of diagnostic data collection, trimming it from three levels down to two. The "Enhanced" level has disappeared, with Windows 10 Creators Update only supporting "Full" or "Basic". The latter will collect even less than before, too, now only logging "data that is vital to the operation of Windows" according to Microsoft.
NOW READ: What Windows 10 Creators Update will include
"We use this data to help keep Windows and apps secure, up-to-date, and running properly when you let Microsoft know the capabilities of your device, what is installed, and whether Windows is operating correctly," Terry Myerson, Executive Vice President of the Windows and Devices Group writes today. "This option also includes basic error reporting back to Microsoft."
Whichever of the two you choose, Microsoft is insistent that it won't be checking through your email, chat, files, or pictures in order to target advertising. The new system will begin rolling out to a Windows Insider build for testing soon, the company says, prior to its inclusion in full in the Windows 10 Creators Update.
MORE Microsoft