Windows 10 Mobile upgrade schedule leaked by Orange Poland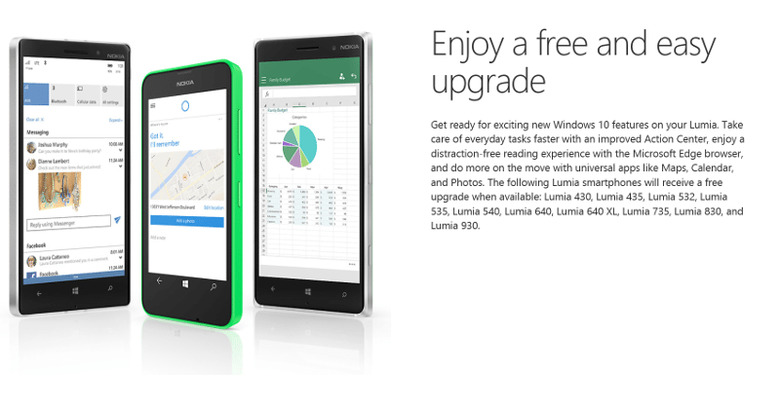 The Microsoft Surface Book has practically stolen the spotlight from the new Lumia smartphones, which were also announced at the same media event. We will, however, be reminded of them again soon, as new Windows 10 smartphones hit the market in a few weeks. But these are just two (or three, if you count the Acer Jade Primo) among dozens of existing Windows Phone devices. When will those be getting the promise of Windows 10? Fortunately for eager fans, Orange Poland has the information, which was, naturally, leaked to the public.
Depending on your Lumia model, you could be getting your Windows 10 update as early as December or as late as February. According to the carrier, December 14 will see the mobile OS roll out to the Lumia 630, 635, 640, 735, and 830. Those not on the list but still eligible for the update, which includes the Lumia 520, 532, 625, 720, 820, 920, 925, 930, and 1020, won't be getting theirs until February 1 next year.
While we did expect the Windows 10 Mobile launch to be a bit later in the year, we had hoped that December would be when it all happens. No theory yet on why the others will get their update so much later, perhaps other than being a generation or two older than the first batch. Of course, this is just for the Lumia family. Other Windows Phone devices from Acer, Samsung, and LG have yet to get dated. Also noticeably missing is the Lumia 530 and 1520.
Despite being supposedly overtaken by Tizen in mobile OS market share, Windows 10's mobile version will be interesting to observe over the next few months. It is both Microsoft's Hail Mary in the smartphone race and also the embodiment of CEO Satya Nadella's overall vision for the Windows 10 platform, which some have noted to actually be almost anti-smartphone. In particular, the Continuum feature blurs the boundaries between mobile and desktop, but its compatibility with premium smartphones only severely limits its spread.