Windows 10 Anniversary update coming July 29, update twice a year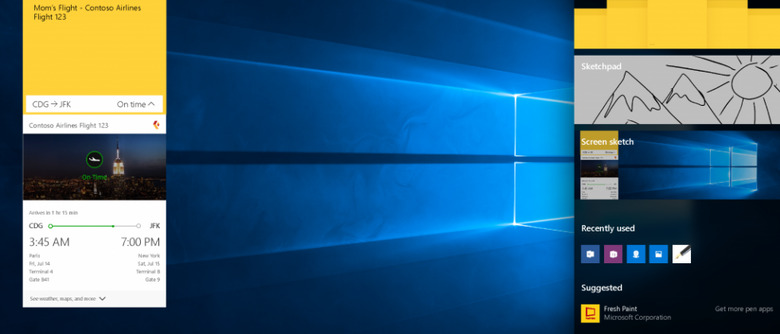 It seems that a couple of things are set to happen on July 29 in the Windows world. Windows 10 will be officially one year old. Microsoft will stop nagging people to upgrade to Windows 10 and Windows 10 will, once and for all, no longer be a free upgrade. But it seems that Microsoft has also schedule that day to be the RTM (release to market) launch of the Windows 10 Redstone 1 update, a.k.a. the Anniversary update. It makes sense, considering the name, but now there is more or less some confirmation about it.
Actually, it's still not official. The information was gleaned from leaked slides that will be distributed to the WinHEC, or Windows Hardware Engineering Community. Here, the timetable Microsoft has in mind reveals an RTM+90 period, or 90 days after RTM launch, that starts July 29 and ends October 28. Of course, in the software world, delays are a fact of life. But it would probably be very auspicious if Microsoft was indeed able to release the Anniversary update on Windows 10's anniversary date.
The WinHEC slides also reveal one other interesting tidbit about the next iteration, or even iterations, of Windows 10. It seems that Microsoft is committing itself to a regular release rhythm for Windows 10 updates. These are mostly for major feature updates instead of fixes and security patches. For the latter, Microsoft has eschewed any fixed schedule in order to push those out as the need arises. With major Windows updates after the Anniversary, Microsoft might be releasing those every six months, so roughly twice a year. Such a release schedule is more common in Linux and definitely uncharacteristic of the former, slow-moving Microsoft. It does, however, mesh with the company's push to present Windows as a Service rather than a one-time software purchase.
The Windows 10 Anniversary update is expected to bring a bucket of new features, not all of which are being warmly received. A slightly revamped Start Screen and Start Menu makes the All Apps list more accessible. The update will also mark the beginning of Microsoft's new Ink platform for devices with active styluses. On the downside, Microsoft is also making room for more "sponsored app suggestions", in other words, ads, on the Start Menu as well.
VIA: Nokiapoweruser