WiMAX Eee PC 901 shows up early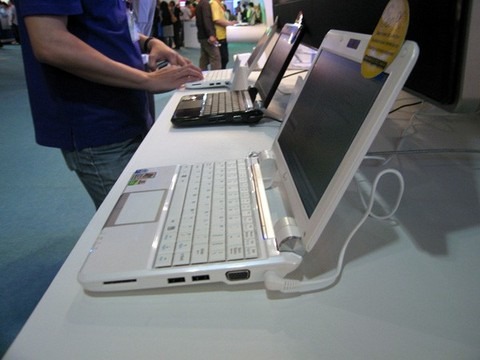 Having recently scaled back its plans to integrate WiMAX into every Eee PC 901, instead making the high-speed mobile broadband technology "an option", ASUS are demonstrating a version of the budget ultraportable at WiMAX Expo Taipei.  Engadget China stopped by the booth and took these photos; they're saying the demo models use Intel's Link 5150 WiMAX/WiFi-N chip.  However, according to the CGT Semiconductor press release, ASUS production versions will use GCT's GDM7205 WiMAX single-chip integrated circuit, and it will feature in both the Eee 901 and the company's F8-series multimedia notebooks.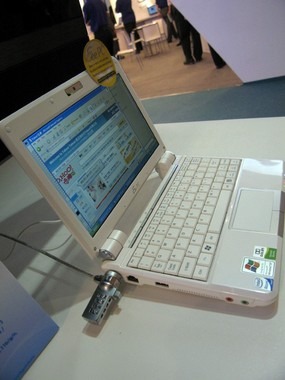 Although the Eee PC 901 is not expected to officially launch until Computex, which kicks off tomorrow, the Intel Atom-based notebook has been vigorously previewed over the past few months.  ASUS are also expected to announce a 10-inch version of the Eee, currently known as the 1001.  Both black and white versions of the 901 are on display at the WiMAX Expo, each with standard WiFi and Bluetooth.  ASUS are quoting four to six hours of battery life, though it's not certain whether that range includes the WiMAX option.
Based on a 1.6GHz Atom CPU, the Eee PC 901 has an 8.9-inch LCD, 1GB of RAM and a memory card slot.  ASUS will offer a choice of either Windows XP or Linux, the former having a 12GB SSD and the latter a 20GB SSD.  The company has previously confirmed that the cheaper Celeron-M Eee notebooks will be discounted once the Atom-based version launches.