ASUS 10-inch Eee 1000-series official launch at Computex 2008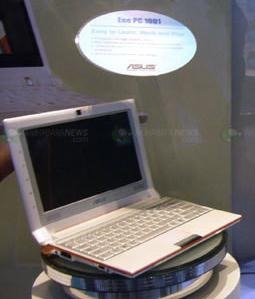 ASUS plan to officially launch their largest Eee PC yet, the 1000-series with a 10-inch display, at Computex 2008 in Taipei, Taiwan. Believed to have the same specs as the Eee PC 901, the larger model was developed after customer feedback asked for bigger keyboards and screens. The company confirmed the 1000-series name in an invitation to Hong Kong journalists:
"ASUS is looking forward to welcoming you during Computex 2008 in Taipei, Taiwan, for the ASUS' 08 Computex Trilogy of launch events. We would also like to specially extend an invitation to you to attend the official global launch of the new Eee PC 901 and 1000 series" Jonney Shih, Chairman, ASUS
The 10-inch Eee is likely to be the largest notebook carrying the branding; ASUS has previously suggested it is wary of cannibalising its entry-level mainstream laptop business with too much Eee overlap. However rumors have also circulated that a standalone Eee brand is being planned, adding a further degree of differentiation between the two ranges. The Eee PC 901 is notable for bearing the Eee logo where that of ASUS was on the first-gen machines.
Computext 2008 runs from June 3rd to June 7th. ASUS CEO Jerry Shen previously suggested that the 10-inch Eee would be ready for release later on this year; it's unclear whether the launch of the popular 10-inch MSI Wind has forced the company's hand.
[via Gear Diary]