Wikipad 10-inch Jelly Bean tablet shows gaming promise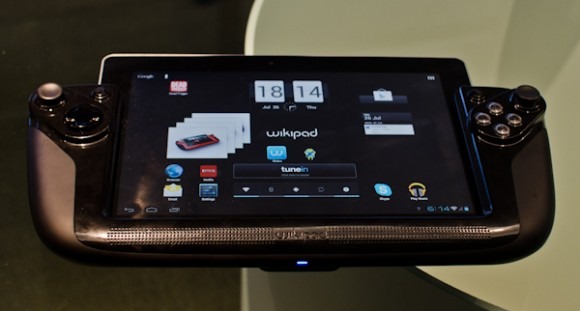 It's time for a brand new tablet to show its massive face with the company that shares its name: Wikipad. This device was shown briefly earlier this year in a 7-inch iteration that didn't look especially unique without its utterly strange add-on controller – now it's being re-revealed with a 10-inch display, NVIDIA Tegra 3 quad-core processor, and Android 4.1 Jelly Bean.
There are several versions of the processor that NVIDIA has noted will be appearing in this tablet. While the Nexus 7 uses the Tegra 3 T30L, the Wikipad will use the T30, and the OUYA will use the T33. That list of processor builds starts at 1.2Ghz, goes up to 1.4GHz where we are with the Wikipad, and ends up with 1.6GHz – that is to say 1600MHz DDR3 RAM. This Wikipad tablet is made to be more powerful than the Nexus 7, which it should be since that tablet was made to be less expensive and has lower clock speed to show it, while this new tablet isn't quite the most powerful beast on the planet when compared to devices coming out right after it.
In other words, it's just like every other device, coming out with the latest hardware its creators could get their hands on. Inside this beast you'll find at least 16GB of internal storage, and it could very well be more by the time the device is finally released. Fraser Townley, President of Sales at Wikipad spoke with VentureBeat about the situation, saying "we will not go down, we will only go up." It is also from that interview that we've gotten the rest of the details we're sharing here, mind you.
This tablet will be released with the rather rare newest version of Android, that being the 4.1 version Jelly Bean. We can expect that this device will instantly be working with the controller which you see above, wrapping around the bottom and sides of the device for fabulous off-screen action. You'll find that the controls may remind you of some past designs with its double joysticks, directional pad, and diamond-shaped collection of buttons, but the designers assure that they're perfectly legitimately original.
There's an 8 megapixel camera on the back of this device, a 2 megapixel camera on the front, and the whole thing will be released (and finally revealed) later this year. Soon, we hope!