Wii U sold out? How about a cheap Flame Red 3DS bundle instead?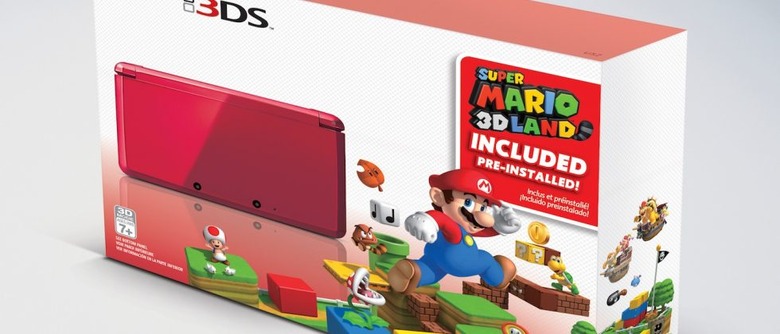 Nintendo might be pushing the Wii U for all its worth right now, but that doesn't mean the company lacks an option for gamers on a budget. The Japanese company has revealed its Black Friday deal ahead of time, a $169.99 bundle preloading Super Mario 3D Land onto a Flame Red version of the glasses-free 3DS handheld, for a claimed saving of forty bucks.
Super Mario 3D Land – which currently has a street price of around $36.99, or a few dollars less than Nintendo's official estimates – puts the popular plumber inside a 3D platform world. Rather than coming on a separate cartridge, however, it will be preloaded into the 3DS itself.
Nintendo actually saw an uptick in 3DS sales in its most recent financial quarter, though that was down to the newer, larger 3DS XL than a surge of interest in the original model. Both feature the same glasses-free 3D system, which uses a special stereoscopic panel on the top display for what Nintendo argues is a more immersive gaming experience.
Of course, most attention is on Nintendo's Wii U at the moment, the company's next-gen console which went on sale in the US over the past weekend. That, Nintendo hopes, will turn around the slump it has seen in home gaming, with Wii sales drooping over the past few quarters.
The Flame Red Nintendo 3DS bundle will go on sale this Friday, November 23, priced at $169.99.