WiFi Alliance "Certified n" logo debuts with confusing taglines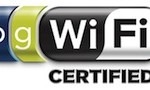 If you're the sort of person who squeals with delight at seeing what logo might be plastered across your next laptop, then prepare to, well, squeal.  The WiFi Alliance have unveiled their latest graphics now that 802.11n has been officially welcomed into the fold, and to make things extra-confusing there are now several different versions and taglines depending on just what the networking manufacturers have bothered to include.
The basic logo now includes a purple 'n' slice and drops the "draft", and any product so certified has been deemed by the alliance to satisfy basic "good neighbour" non-interferrance testing, efficiency measurements and simultaneous spatial stream transmission.  On top of that, a product can add one of two taglines: "Wi-Fi CERTIFIED dual-stream n" or "Wi-Fi CERTIFIED multi-stream n".
Those taglines refer to various multi-stream abilities, as laid out in the table below, and seem likely to confuse consumers to no end.  The WiFi Alliance has set up a new site – www.11nbasics.org – to try to rectify that, but we still have our doubts, frankly.