WiFi 802.11n gets ratified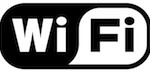 In "about bloody time" news, the IEEE Standards Association have finally ratified the WiFi 802.11n standard, meaning we can finally drop the clumsy "draft-n" terminology that has been in use since 2006.  Already to be found on many laptops and other devices, WiFi 'n' offers significantly higher throughput compared to 802.11g – theoretically up to 300Mbps – together with improved signal stability.
The ratification of 802.11n has been done with no major changes to the wireless system as is already in place, and as such owners of existing devices shouldn't expect any problems.  The finalized standard will be published in October 2009.
[via Twitter]