Pebble is breaking into the health and fitness space, opening up its smartwatches to enable full activity and sleep tracking, with partners like Jawbone and Misfit already onboard. Meanwhile, there's a price cut for the original Pebble and Pebble Steal, including bringing things under all-important $100 barrier. I spoke to Pebble CEO Eric Migicovsky about the evolving smartwatch, and why he believes Pebble still has the edge in an age of Android Wear and Apple Watch.
The new software update for the original Pebble and the Pebble Steel builds on the rudimentary activity tracking the company added earlier in the year. Then, a Misfit Shine watchface could track steps, just like a basic activity band; however, due to Pebble's architecture, it could only do that tracking while the watch face was active.
That's all changing now. Pebble now supports APIs for background activity tracking, meaning apps can figure out things like steps taken without having to be in the foreground.
"This is probably the biggest single push the team has made singe the Appstore and Pebble OS 2.0 earlier this year," Migicovsky told me of the fitness update. "We've always wanted to do it, but until this release we didn't think we could do it well."
Making things tricky for the Kickstarter success is its existing commitment to battery life. Pebble wearers are used to getting as much as a week from a single charge – unlike, say, the day or two an Android Wear smartwatch such as the Moto 360 will last – and so any fitness enhancement couldn't diminish that.
The result of that work is background tracking support but with what Migicovsky describes as "negligible" impact on battery life; in the company's own testing, having activity data collection turned on reduced overall runtime by about a third of a day over the course of a week.
First to sip from that new frugal data stream are Misfit, Jawbone, and Swim.com. Misfit is updating its original app for continuous tracking as well as sleep monitoring, while Jawbone has a new Up watchface for Pebble that will do its own collection.
Swim.com's app, meanwhile, is intended for swimmers – Pebble is waterproof to 5ATM – and can measure distance, pace, times, strokes, and efficiency.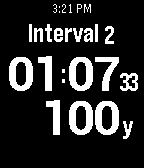 Swim's app – and indeed all the others – take advantage of standalone functionality, with no need to be paired via Bluetooth to a phone. The Pebble apps cache the data and then synchronizes it when the watch next has a connection. Pebble itself doesn't get access to any of the data each app has collected.
Activity tracking isn't the only improvement in the new software; there are a few other tidbits, too. A quick launch feature now allows wearers to jump to any app from the watchface screen, by long-pressing the top or bottom buttons on the side. When paired with an iOS 8 device, it's now possible to dismiss notifications from the wrist and have that mirrored on your iPhone.
As for pricing, a price cut today brings the original Pebble to $99 (€129/£99) and Pebble Steel to $199 (€229/£179). They'll be more broadly available at retail, too, showing up at Dixons, O2, and Amazon in the UK from October, as well as other European countries.
In fact, Migicovsky pointed out, the smartwatches have gone from being available in 1,500 stores at the start of 2014, to over 10,000 less than a year later.
The intervening period has seen some interesting developments in the wearable space, of course. Google's Android Wear has launched, albeit to mixed reviews, while the Apple Watch has given iOS fans something to look forward to in 2015.
Pebble's primary advantages are price and cross-platform support, and despite the fact that the smartwatch has less in the way of functionality than its Google and Apple rivals, Migicovsky is still confident it will maintain a niche.
"We wanted to be able to spread Pebble around more and move units worldwide," he told me of the cuts, "it's the right price for the tech we're offering right now."
"When I started working on this six and a half years ago, the only other smartwatch on the market was from Sony Ericsson and it cost $399!" Migicovsky pointed out. "There was no way that me, as a 23 year old, was going to buy that watch."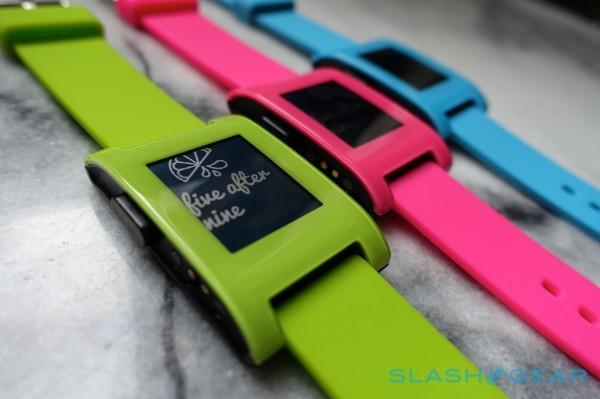 According to the founder, Pebble's goal has always been to be a watch first and a smart computer second. "A lot of the software decisions we make in our platform are shining in the playing field," he countered to my suggestion that Pebble might need to raise its functionality game as smartwatch wearers got used to being able to do more without taking out their phones.
Instead, Migicovsky points to the high levels of engagement Pebble wearers have with their watches, with 75-percent of active users said to wear Pebble for 20 or more days each month, while third-party research also suggests that Pebble is the number one wearable – including more basic fitness trackers – in terms of retention.
Notifications, alerts, and timely reminders "are our bread and butter, that's where we best serve our customer," Migicovsky told me.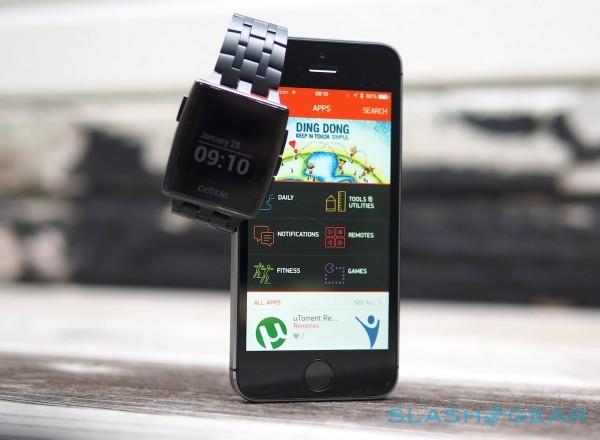 Still, with Pebble's core hardware now several years old, and arguably more aesthetically-pleasing options showing up from rivals, I had to ask whether it was time for a push on design and hardware. Migicovsky reminded me that many of the current questions around things like screen technology and battery life he'd heard before, back in the days of the inPulse smartwatch. Back then, he said, he was criticized for the use of an OLED screen, and for trying to fit too much into the form factor.
"Why bother letting that be another stress in your life," he argued, describing the approach some others have taken as effectively "having a smartphone on their wrist."
As for design, "that's one of the toughest questions about wearables today," he conceded, "people like different things on their wrists." Pebble hasn't said when it will reveal new models next, and the CEO wouldn't be pressed to reveal that – it's worth noting that Pebble Steel was announced at CES 2014, and CES 2015 is only a few months away – but the company's approach may not be the same as Apple's with numerous cases and finishes to pick between.
"With watches there's 100 years of different designs," Migicovsky told me. "Sometimes you just have to put your foot down and say 'this is what Pebble is.'"