At last, NVIDIA revealed their Turing architecture for next-generation graphics processing. At Siggraph 2018, NVIDIA's CEO Jensen Huang announced not only the company's 8th-generation GPU architecture, but the first ray-tracing GPU, a list of top-name graphics software companies adopting this new technology, and a brand new NVIDIA Open Sources Material Definition Language SDK. But why does this matter to you, the everyday average SlashGear reader? Let's talk about movies.
We took a brief look at the newest wave of computer graphics architecture, Turing, last night in our first post about NVIDIA Quadro RTX. In as few words as possible, JC took a stab at unveiling the reasons why Turing is a big deal, and how the NVIDIA Quadro RTX will bring that big deal to the public. But I'll do you one better: Why should YOU care about Turing?
Because of the list of software companies and associated brands working with NVIDIA on Turing with the Quadro RTX and future hardware, etc. The list tells us everything we need to know about why this new generation of graphics processing matters to the common person. We've got all sorts of different readers here on SlashGear, newbies to top-level professionals, and there's one thing almost everyone can appreciate: Better looking movies.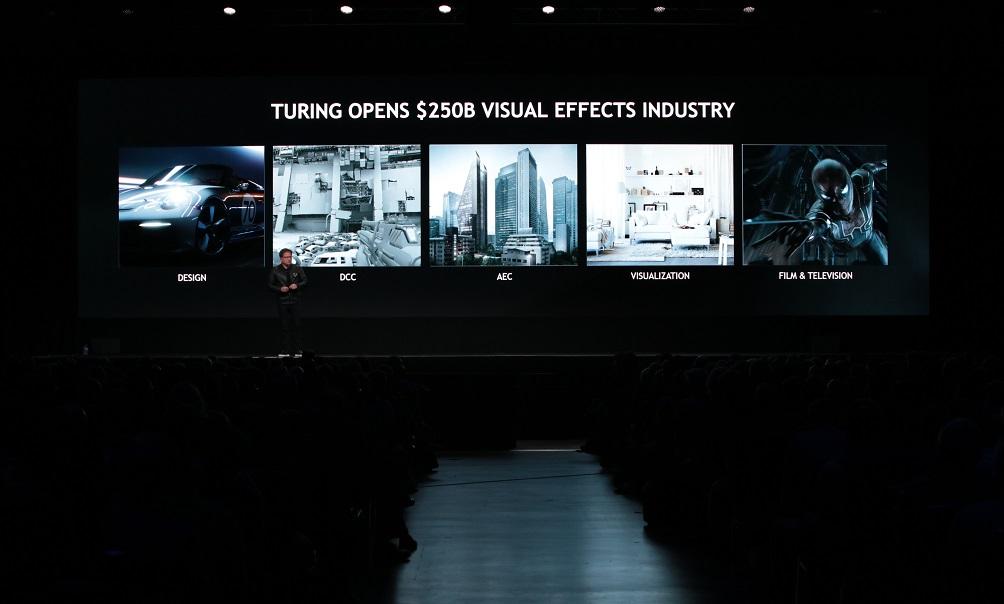 Take a look at this list of companies that've given NVIDIA their endorsement on Turing. This is a key list of film and gaming cinematics companies. Leaders and influencers alike are amongst these titans.
• Weta Digital (Lord of the Rings, etc)
• Redshift 3.0 SEE: Rampage
• PocketStudio for 3D animation for filmmakers
• Pixar
• Chaos Group
• EA Worldwide Studios EA SEED
• Epic Games' Unreal Engine
• Remedy Entertainment (games)
"With its Turing architecture, NVIDIA have shattered the photorealism barrier that current-generation rasterizing techniques have presented until now," said Kim Libreri, CTO, Epic Games. "Just as we saw with the movie business over a decade ago, ray tracing is going to revolutionize the realism of real-time applications, cinematic experiences and high-end games. Now, we will see artists and designers using Unreal Engine technology to create, view and interact with content that is indistinguishable from reality."
What I see this as is a big bump toward surpassing the bottleneck of cost/time/effort in graphics work in major motion pictures as well as video games at all levels. Right now we can get one of the biggest major motion picture series in the world, The Avengers, and make millions of dollars, but we've still got wobbly-looking human things flying through the air.
Before you go any further, I recommend you take a peek at the Engadget article by Devindra Hardawar called "Black Panther is amazing. Why are the CG models so terrible?" Then come back and read the rest of this Turing article here on SlashGear.
With Turing, we move closer to a point at which graphics professionals will be able to justify the amount of time and effort it takes to make good-looking end results. Whenever NVIDIA makes a big jump like this, quality goes up, costs go down. Whenever you can pack more work by graphics processors in a given amount of time, you get more impressive results in the end in a completed piece of work.
"Our long-term collaboration with NVIDIA on advanced rendering continues with Turing," said Luca Fascione, senior head of Technology and Research, Weta Digital. "The performance improvements change how artists can work with hero assets throughout the pipeline, improving every creative decision along the way. This is not a speed-up, it's a step up to a new way of working."
Any time Luca Fascione says something is working, I listen. I think you should too.
I'm personally crossing me fingers hoping for quick implementation of Turing for better looking movies in time for Disney's re-integration of the X-Men and other mutants into the larger Marvel Cinematic Universe. That and the Boba Fett movie.