Why Microsoft's Answer To A Folding Screen Works Better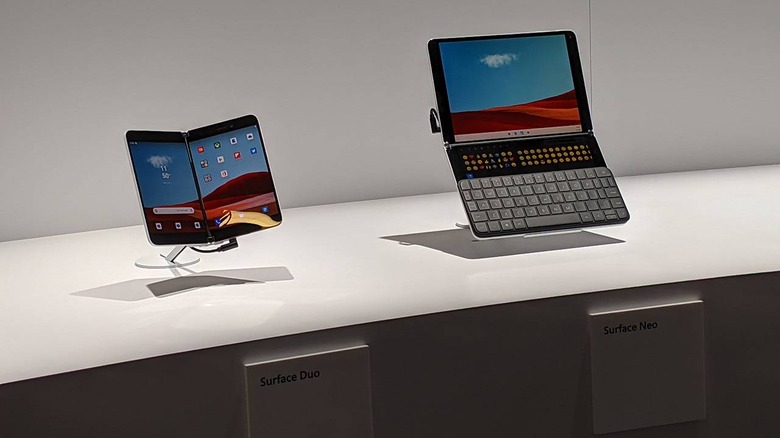 This is the way to do it. Microsoft has been hard at work this year, unveiling a long list of new products, including a pair of folding devices: the Surface Neo and Surface Duo. Both these devices have two screens connected with a hinge that can fold a full 360 degrees. The Surface Neo is a folding tablet that Microsoft envisions as its evolution of a laptop. It has two screens and runs Windows 10X, a new version optimised for folding screens. And the smaller one, the Surface Duo, has two 5.6-inch screens bolted together and runs on Android.
Microsoft's announcement came shortly after the re-release of the Samsung Galaxy Fold, which ran into trouble at the beginning of the year due to its problematic folding screen.
In many ways, the Neo and Duo are a response to Samsung's innovative screen. The way we see it, Microsoft's take on folding screens work so much better for today's needs.
Durability
We only need to look back to April to understand the durability issues that come with a foldable screen like the Galaxy Fold's. Its OLED panel is housed underneath a plastic film which, back in April, was mistakenly removed by early users, causing the screen to malfunction. That may be fixed today, with a protective hinge that prevents removal, but it's still a quick solution to a potentially device-ending mistake. Samsung even included specific care instructions, so buyers don't wreck the $2000 device.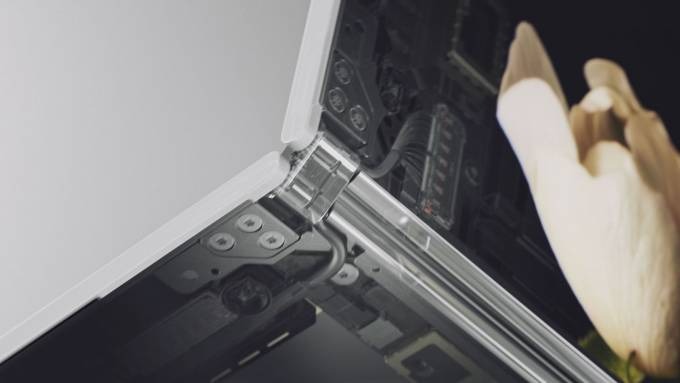 The Duo and the Neo may only be released Christmas 2020, but we can already infer it will probably be a more durable device than an actual foldable screen. Both panels are housed underneath Gorilla Glass screens that are sturdy and don't dent under pressure. While glass does shatter, it helps that it folds inwards, so its metal chassis protects it when you're not using it.
Separating the screens also means they can function even when the hinge wears down over time. Tests performed on the Galaxy Fold showed that the bendy screen began malfunctioning after 100,000 folds. While that still guarantees a normal user years of service, the Surface devices have the edge as its screens don't go out of service just because the hinge wears out. We'd sleep better at night knowing our phone screens aren't inching closer to death every time we open it.
Practical uses
While the seam at the centre is certainly less ideal than the crease on a foldable screen, some of the Surface Duo and Neo's practical uses could make up for the eyesore.
The hinge allows the devices to be opened at any angle. Users can sit it up like a laptop; lay it flat like a book; or flipped around to use it like a traditional phone. This offers plenty of variety and options for users. Microsoft even went one step further, providing laptop-like functionality by letting users type on the bottom screen and even use it as a trackpad on the Surface Neo.
You don't get this flexibility with actual folding screens for now, which are meant to be opened like a book.
Greater accessory support
With screens that don't really bend, it'll be easier for developers to create accessories like screen protectors. Users of flexi-phones like the Galaxy Fold and the Huawei Mate X are left with the plastic films that come out the box, as normal screen protectors are unable to withstand being bent.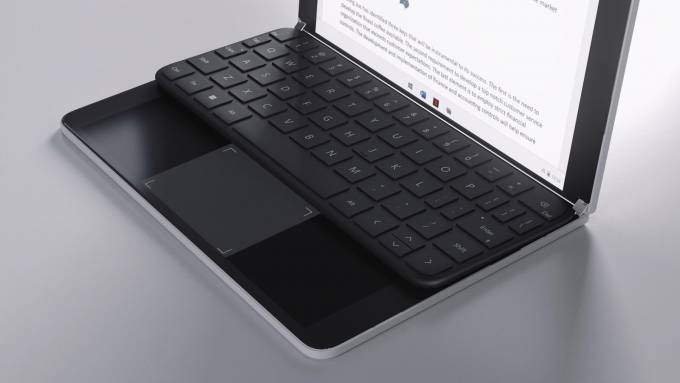 Microsoft have also developed an attachable keyboard you can snap onto one half of the device. And when you do, the remaining portion of the screen turns into a trackpad, much like a laptop. Attaching the keyboard to the lower half of screen turns the screen above it into a touch bar, in a similar vein to the ASUS ZenBook Pro Duo. We are excited to see how Windows X and other third-party apps make use of this.
It's likely to be cheaper
Without the mad, bending technology of the Galaxy Fold and Mate X, the Surface Duo and Neo are likely to be a lot cheaper than its folding-screen counterparts.
Admittedly, Microsoft kind of cheated its way into the category. Its screens don't exactly bend – it's just two screens connected with a hinge – but Microsoft seemed to have found a more practical – and reliable – solution for the current state of technology, at least.
Some concerns
The Neo and Duo's success will greatly depend on how well optimised apps on the WindowsX and Android 10 platforms are for dual-screened devices. Apps showcased in Microsoft's event showed apps filling each screen, but never across both screens. Are apps only meant to be used on one screen at a time? We also don't know what videos will look like in full-dual-screen mode.
The Microsoft Duo and Neo are set to launch Christmas 2020. Stay tuned for more.