Surface Neo and Surface Duo first-look: The skeptical geek's dream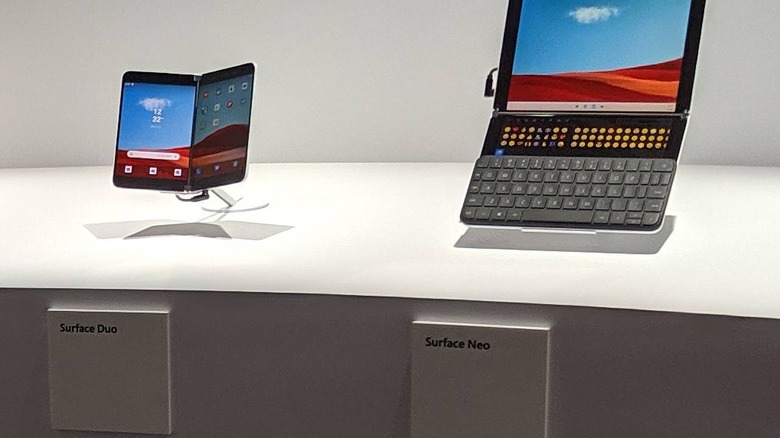 Microsoft's big Surface event today was certainly hardware-packed, but nothing stands out like the Surface Neo and Surface Duo. Both dual-screen devices – one scaled like a tablet, the other like a phone – the pair run Windows 10X and Android. They're eye-catching, yes, but we still have plenty of questions.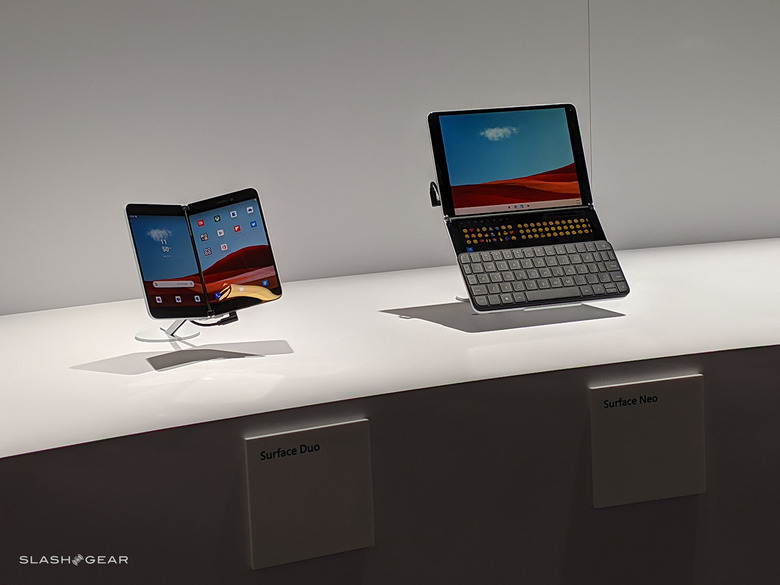 It's hard not to see both devices as a nod back to the Microsoft Courier concept, the dual-screen tablet that started literally years of hopeful anticipation for a foldable PC. Surface Neo is the larger of the two, with a pair of 9-inch screens joined along their longest edge with a 360-degree hinge.
Opened up fully, it's a 13-inch display. Partially folded, it's more like a book or a folio. There's a detachable keyboard, too, along with support for Surface Pen – which clings magnetically on the outside – and a Bluetooth mouse if you really want one. Microsoft has even thought hard about how the keyboard will work, too.
It's designed to flip out of the way magnetically when you need both screens. However, it flaps into place when you need to type – and looks a lot like the keyboard you'd find on other Surface hardware – covering roughly two-thirds of one of the touchscreens. The remaining display is dubbed the "WonderBar" and is Microsoft's take on Apple's Touch Bar. Much larger, it'll show things like app shortcuts and controls, emojis, video previews, and more.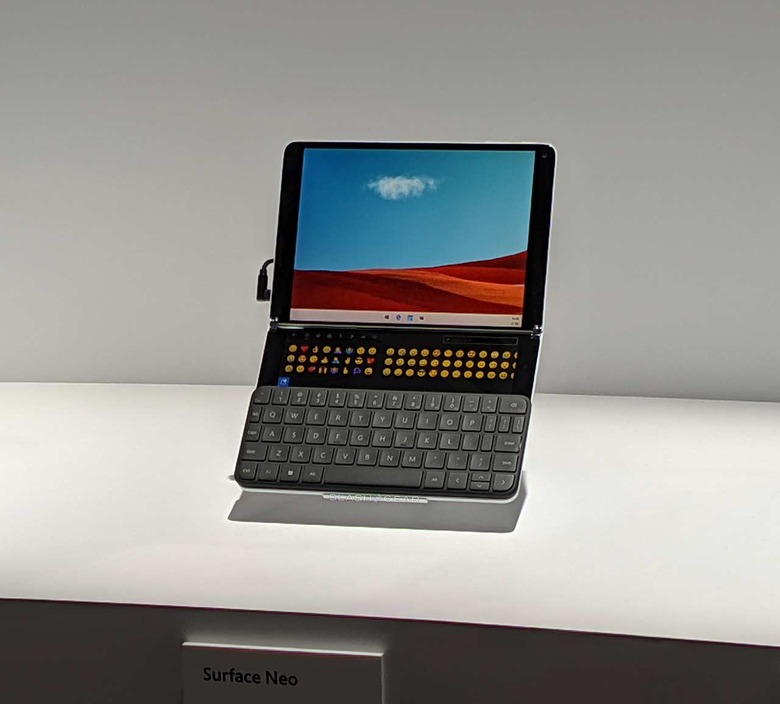 Alternatively, you can slide the magnetic keyboard up, and leave the open touchscreen strip underneath it. That way, it can work more easily as a virtual touchpad.
Neo – and devices like it from third-party manufactures including ASUS and Lenovo – will focus on pairs of 9- to 12-inch screens. Smaller, though, will be Surface Duo. That combines two 5.6-inch touchscreens in a clamshell form-factor, which unfold to make an 8.3-inch display in total.
Unlike the Windows 10X-based Surface Neo, the Surface Duo will run Android. While Microsoft is positioning it as a Surface PC, you'll still be able to make calls with it.
Microsoft isn't letting people get especially close to either the Surface Neo or Surface Duo here in New York City today, much less actually play with the two prototypes. That's undoubtedly because, despite them being briefly demonstrated on-stage – and in concept videos – they're far from being ready for a more significant deep-dive.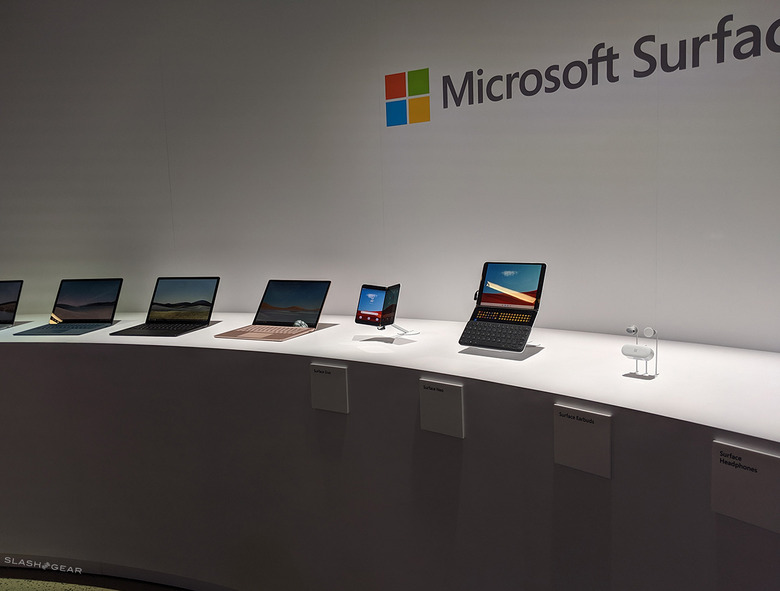 Indeed neither will be released until the 2020 holidays, and that's a lot of time for refinement – and for the market to decide whether it wants a taste of what Microsoft is cooking, here. For a start, unlike the Samsung Galaxy Fold and the upcoming Huawei Mate X, Microsoft is focusing on separate display panels rather than a single, foldable screen. That makes it easier – we've seen, after all, the headaches Samsung has had with its foldable OLED – but it means there's a visual disconnect between the two halves, even if Windows 10X is designed to span apps across them.
With a 14 month lead period, Surface Neo and Surface Duo are probably going to change considerably before they actually arrive on Microsoft Store shelves. Microsoft arguably needs that time to get developers up to speed, particularly on the Android side. We've seen dual-display phones, using two touchscreens linked with a hinge, several times before, and each time they struggled to get app-makers to buy into the form-factor.
For now, Microsoft has certainly caught some attention today with its array of hardware. The reality of the dual-display segment, however, is that it has claimed more victims than it has had successes: we've seen no shortage of attempts to make it work over the past 10 years, and few have amounted to more than a temporary curiosity. Here's hoping the same fate doesn't befall Surface Neo and Surface Duo.