Windows 10X official: Dual-screen OS with some big changes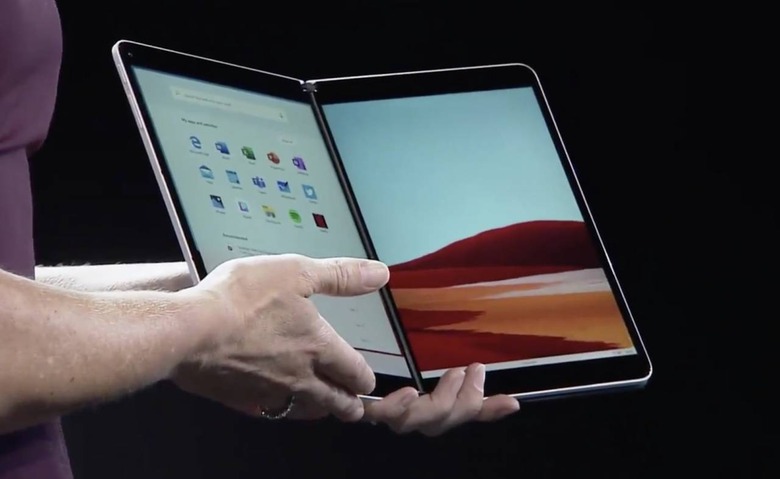 Get ready for a new version of Windows, with Microsoft revealing Windows 10X for the dual-screen and foldable future of computing it sees making a big splash. Announced alongside the Surface Neo, Windows 10X does away with some of the most familiar elements of Microsoft's OS in the name of making it even more finger-friendly.
Gone, then, is the Start Menu as we know it. In Windows 10X, it's been revamped into a more phone-like interface of apps, but with documents integrated too. That way, you can have your favorite software pinned for easy access, along with the files you've been working on recently too.
Another big change is to Live Tiles, which simply won't be present in Windows 10X. Microsoft first experimented with them back in its Windows Phone days, and then they migrated to the desktop with Windows 10. Part app icon, part widget, they were meant to give a preview of recent content and then became the default interface for Windows tablets.
It's hard to say that the experience of using Windows 10 on a tablet was ever especially streamlined, however. It always felt that Microsoft was trying to shoehorn an OS intended for devices with a keyboard and mouse into a form-factor that lacked both. Even the tablet interface that Windows 10 2-in-1s and tablets could switch into when undocked felt like a half-measure.
If dual-display devices are to take off – and that is, frankly, still far from guaranteed to happen – Windows needs to handle such form-factors much more adeptly. Windows 10X "is a new expression of Windows 10," Microsoft's Carmen Zlateff says. "Our goal is to fuel a new era of mobile creativity, and productivity, across two screens."
Take a look at Windows 10X. #MicrosoftEvent @windows @carmenzlateff pic.twitter.com/8FsIspI5ld

— Microsoft Surface (@surface) October 2, 2019
"Windows has always been about productivity," Zlateff says, "and now we take that to another level on dual-screens." On the Surface Neo dual-screen tablet, for example, the left screen is dedicated to apps and services. There's search at the top, followed by a grid of apps, and then documents.
Launching an app opens it on the side that it was invoked in. Then Windows 10X offers to open more apps on the opposite screen. Or, you can drag the open app across – Microsoft says it's calling that "spanning" – and Windows 10X expands it over the two screens and optimizes it for the form-factor.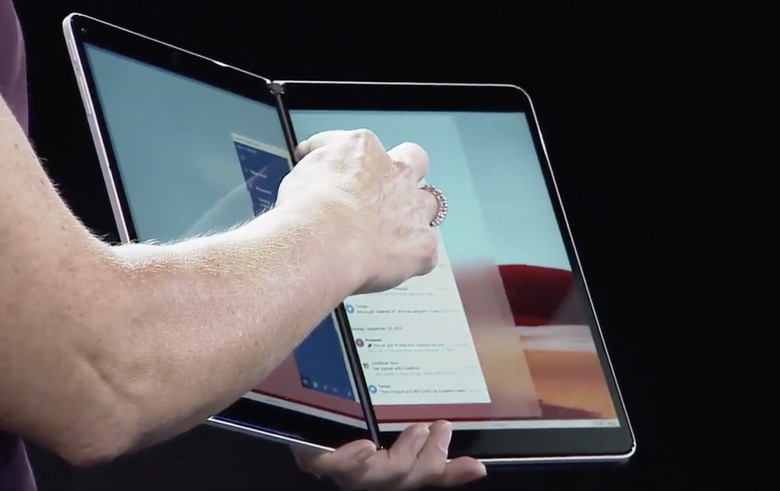 As for those apps, Microsoft isn't making the same limited compatibility mistakes it has run into before. "Windows 10X, on Neo, supports the breadth of Windows apps – including Office," Zlateff insists. That'll mean the same "core" for Windows software – common regardless of whether it's on a notebook, an Xbox, a HoloLens, or something else – including Win32 apps in a container.
Of course, there's still some time for Windows 10X to be polished up before it's released. The Surface Neo won't be released until the 2020 holidays, for example, and even hardware-makers who have devices ready to offer a dual-screen experience won't be able to jump Microsoft to the gun and have their own Windows 10X products out first. Microsoft promises that big names like ASUS, Dell, HP, and Lenovo are all intending to launch such devices, but not until that same holiday 2020 period.