Surface Neo Revealed Today, Over A Year Before Release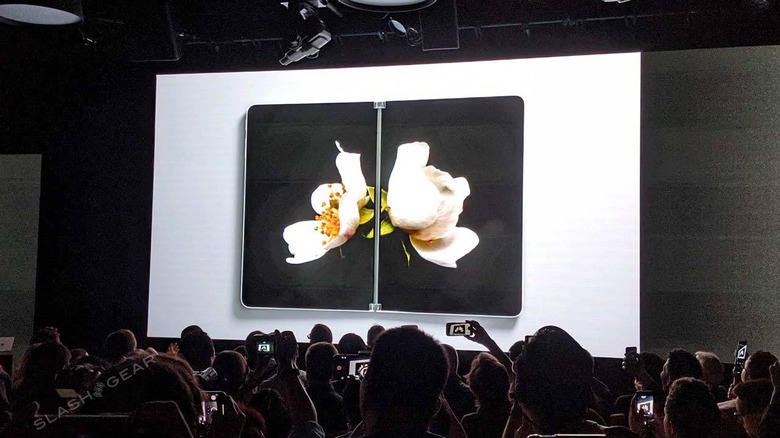 Today with the Surface Neo, Microsoft revealed a product that they suggested will be available "next holiday" – as in 2020. That's more than a year away – for the product they've revealed today. It's not a completely finished product – it's still in development. In fact part of the reason Microsoft revealed this product today is to bring developers "along for the journey" – aka make certain they've got apps ready before the device is ready to launch.
This is the product that we've been seeing in leaks for a long, long time – with two displays. It's got a power button, a volume rocker, and a magnetically-attached keyboard. The two displays are connected by a hinge, but the keyboard is separate. The keyboard works wirelessly, allowing the device to adapt in a wide variety of ways.
Have a peek at the images of the machine above in the gallery – and see how close it is to reality. The back sides are glossy – with Gorilla Glass. It's the "thinnest LCD ever created", so says Microsoft. It's 655 grams (for now) and it's extremely thin and light – yet robust at the same time.
This device will not be released in the year 2019. It'll apparently be released in the year 2020 – in the holiday season of that year. Until then, expect a whole lot of releases on this machine from Microsoft from all angles. Lots of focus on apps, lots of focus on its ability to expand what's possible for the user.
This device will be launched with Windows 10X. This is a software system that was made specifically for this sort of form factor first – it'll likely expand well beyond what we see here before this device's release.
No word yet on the price of this machine – but don't expect it to be cheap. This isn't the sort of device Microsoft offers for a price similar to the rest of its Surface line. But we will see!