Who sent the plush Earth toy to the International Space Station?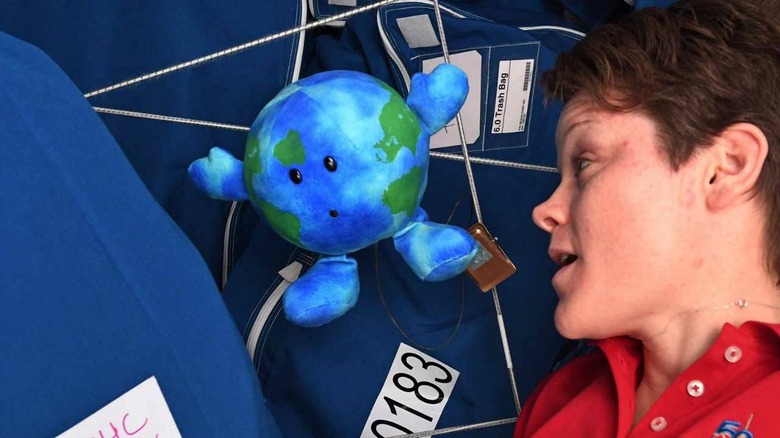 If you'd seen the plush "Earthie" toy in photos of the International Space Station, you'd know it. It's basically a spherical earth in blue and green, with blue arms, blue legs, black oval-shaped eyes, and a circular black dot mouth. It's super cute, really – but where did Earthie come from? And the most obvious question – where can I get one to love and hold forever?
While the Earth plush toy was brought to the International Space Station by SpaceX, it was not made by the company. Instead, this little creature was sent there onboard the first Dragon Crew Rocket (DEMO-1) trip to ever reach the ISS. This was part of NASA's Commercial Crew Program. This program seeks to bring humans back into space using American commercial companies (SpaceX and Boeing).
When the ship took off from Earth and successfully docked with the ISS, we caught our first glimpse of this tiny plush Earth. The toy was placed onboard the NASA DEMO-1 FLIGHT TEST craft along with Ripley, a lifelike anthropomorphic test dummy meant to represent one of several crew members that'd eventually take part in launches – in the near future. This craft also carried 400 pounds of supplies for the ISS crew.
Once splashdown occurred, it was obvious Earthie was no longer aboard the craft – and wouldn't be coming back any time soon! It'll also be incredibly difficult to get ahold of the toy right now, if you're earthbound. The company that makes the plush Earth didn't know before the launch that their toy would be onboard!
Yes buddy, that's your Mother Earth. Isn't she beautiful? pic.twitter.com/qY6KDbAIwb

— Anne McClain (@AstroAnnimal) March 4, 2019
These folks who make the Earth plush are called "Celestial Buddies," and they're backlogged on orders for that one model for the foreseeable future. All orders left unfilled right this minute won't be able to be addressed until April (when the next shipment arrives in the warehouse at Celestial Buddies.)
This plush skin wouldn't have done well in that water. I understand why they made me stay now... https://t.co/gEUMw0X6UW

— zero grav indicator (@zeroGlyfe) March 8, 2019
At the same time, this little fella is just one of a collection of similar interplanetary pals they've got in stock. Usually you'll find these babies in museum and planetarium gift shops, but they also sell them online a couple different places. As you can see above, the astronauts aboard the ISS have taken quite a liking to the toy, and you'll probably be seeing the little "super high tech zero-g indicator" (as Elon Musk put it) up onboard the station for the next few months at least.