NASA shares SpaceX Crew Dragon splashdown video after milestone mission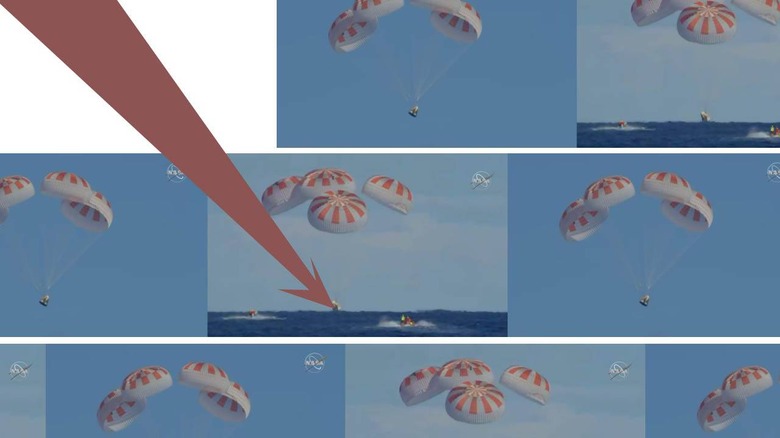 NASA shared a video of the SpaceX Crew Dragon reentry and splashdown this morning, completing Demo-1 flight test in its entirety. This is a historic video – and event – due to its place in returning human astronauts to space via commercial means. Now that this test is complete, SpaceX can move forward with tests with humans onboard craft of similar stature.
This mission took place over the course of a day short of a week. They took off on Saturday and splashed down this morning. This mission carried out a number of firsts. These were accomplishments that'd never been made before on Earth, by humans, ever. All of these were completed in this 6-day mission.
• 1st commercially-built and operated USA crew spacecraft and rocket to launch from American soil on a mission to the ISS.
• 1st " to dock with the space station.
• 1st Autonomous docking of a U.S. spacecraft to the International Space Station.
• 1st time using a new "global design standard for the adapters that connect the space station and Crew Dragon"
These same adapters will be used by future missions to the moon by the Orion spacecraft. This is all part of an initiative called the Commercial Crew Program. In this program, NASA's aim is to work with two American companies to provide "safe, reliable, and cost-effective crew transportation" to and from the ISS. This part of that program launched the SpaceX Crew Dragon for the first time.
Onboard the craft was a "lifelike test device" given the nickname Ripley. It's possible this name referred to something NASA or SpaceX related that I'm not aware of – but the most likely situation is that SpaceX officials are big fans of the ALIEN series of films and media. The primary hero of that series is Sigourney Weaver, an actress who plays the character Ellen Ripley.
NASA and SpaceX's mission return completes a five-day excursion that took off from Earth, docked with the International Space Station, and returned to Earth safely. The flight time from departing the space station until splashdown was approximately 6 hours. Crew Dragon splashed down at approximately 8:45 AM EST.
This mission's splashdown location was around 230 miles off the coast of Cape Canaveral, Florida. Demo-2 will be the first crewed test flight aboard the Crew Dragon. It'll carry astronauts Doug Hurley and Bob Behnken for final certification before routine operational missions. This Demo-2 launch is set for "this summer."