White iPhone 4S spotted in AT&T systems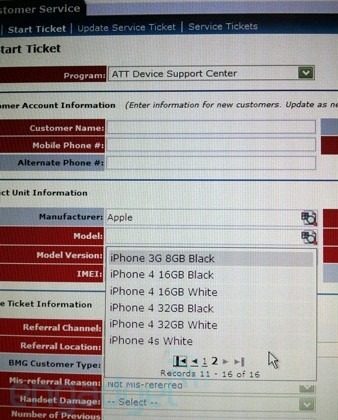 Mention of the iPhone 4S has reportedly been spotted in AT&T's internal systems, with a leaked screenshot showing a listing for the white version of the smartphone. Listed alongside the existing iPhone 3G and four variants of the iPhone 4 in the image shared with Engadget, there's no technical detail nor anything as telling as a photo of the smartphone itself.
The iPhone 4S is tipped by some to be Apple's new entry-level device, a cut-price version of the current iPhone 4 that would be targeted at low-cost postpaid customers and offered as a prepay handset too. That would allow Apple to significantly extend its current range, taking on low- and mid-price Android devices.
Talk last week, however, suggested that rather than launch both the iPhone 4S and the all-new iPhone 5 simultaneously, Apple might be forced to delay the iPhone 5 and release the iPhone 4S on its own. Production difficulties around the true fifth-gen handset were cited as reason for the potential delay, with stock shortages rumored to last into early 2012. More on the latest batch of ever-circulating iPhone rumors in our full round-up from last Friday.