webOS TouchPad $100 Fire Sale Today, Should You Buy It?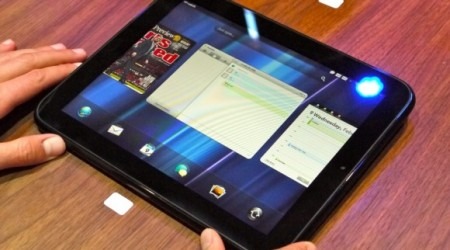 It appears that everyone who suggested HP sell their webOS tablets for unbelievably cheap prices or straight up give them away were right on track with what HP was thinking, because starting today you can purchase a TouchPad for the fabulous fire sale price of $100. Or you WOULD be able to if they weren't experiencing a problem with their cart system which turns your price back to the most recent prices of either $399 or $499 depending on if you'd like the 16 or 32GB version. At this very moment it appears that HP has shut down sales operations again for the time being, but you can expect a fix inside the next few days more than likely.
The real question now is, of course: what will we do with a TouchPad when its very operating system is in jeopardy of being axed completely? HP says they're looking for a solution for the webOS situation, planning more than likely to license the software to manufacturers across the board, but as it should be obvious to everyone on earth, there is no operating system if there are no 3rd party developers working on applications for the platform. HP's smartest move for the moment is indeed to be giving their already made hardware carrying the mobile OS away for free (or at least away for very cheap), and that's what we're sort of seeing now with this mega price knockdown.
Another alternative for the TouchPad, all you consumers, if you would be so bold, is to purchase one and use it to watch movies on the go. It's a 10-inch tablet and has Dr Dre's Beats audio going for it, so an airplane mini-television wouldn't be out of the question, and for $100 certainly not a bad deal. Another option is purchasing the tablet and waiting for the folks at XDA Developers Forums to find a way to hack it and make it run Android. Once that happens you'll have a fairly decent dual-core tablet running Android that you'll only, again, have payed $100 bucks for. That option isn't 100% certain though, and XDA developers don't always take the time to hack a device that isn't worth the time to hack, as it maybe were.
Of course those testing the webOS platform on other tablets have something different to say about this dual-core TouchPad's real potential – or lack thereof.
Meanwhile check out more on this situation by heading to our first HP/webOS breakup guide: Why HP is dropping webOS : HP Comments at Length, followed by our followup analysis HP TouchPad Lasted 49 Days, Microsoft Kin Lasted 48, IBM Did it Best, and of course Chris Davies precognition of the doom HP TouchPad: Desperately Discounted. Then let us know if you'll be picking one up!
Also – if you already purchased a TouchPad for the full $400 or $500 price, contact either HP or if you purchased it from Best Buy inside the past 60 days, you can still return it – just contact the Best Buy you purchased it from or call the online source if you purchased it from Best Buy online.
Best Buy is currently posting the following on the TouchPad page:
What should I do if I purchased the HP TouchPad outside of the 14-day return policy and would like to return it?

Best Buy is extending its return/exchange policy on the HP TouchPad and all HP TouchPad accessories to 60 days. Come into a Best Buy store and we will help you find another tablet to fit your needs or issue you a refund.

Does the Best Buy Price Match policy still apply if I see the HP TouchPad discounted at another retailer?

No. As of August 19, 2011, the HP TouchPad is on clearance and we will no longer be selling the units so we will not offer any price matches. As mentioned above, we will still be offering an extended return/exchange policy.