WD and SanDisk ship TARDIS-like Black solid-state hybrid drive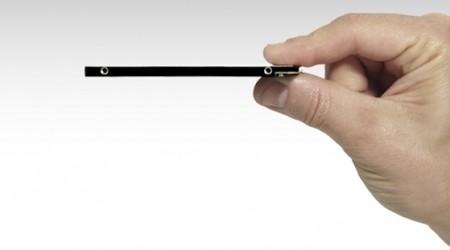 Pairing flash storage and traditional spinning-platter drives for the best of both worlds isn't new, but SanDisk and WD think they're collectively on to a winner with the newly-shipping WD Black SSHD. The solid-state hybrid drive squeezes together 500GB of Western Digital storage with a chunk of SanDisk iSSD flash capacity, which is used as a caching drive to boost data transfer times much in the way of a regular SSD.
In fact, the WD Black SSHD builds on Western Digital's 2.5-inch UltraSlim drive, announced back in April, which is a mere 5mm thick. That's paired with a 19nm SanDisk flash drive, for something that ends up half the volume of a traditional 2.5-inch notebook drive.
The goal is to get the SSHD into ultrabooks and the like, where the tiny form-factor will allow for smaller and lighter chassis. However, since it's a standalone drive, upgrade potential will also be greater; existing embedded flash storage options generally leave the owner no room to boost internal capacity later on in the ultraportable's life-cycle.
Upgrades will have to wait until WD and SanDisk start offering the Black SSHD to end-users, with OEMs the first to get the tiny sliver of storage. No word on how much it will cost at this stage.