Western Digital releases 5mm UltraSlim 2.5-inch hard drive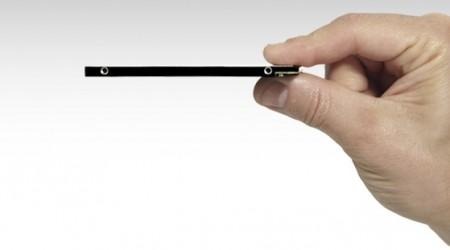 Western Digital has just begun shipping a new 2.5-inch internal hard drive that's only a mere 5mm thick. The company is calling it the UltraSlim, and it packs in 500GB of whatever you can stuff in it. the new drive will fit in any standard 2.5-inch drive bay, but will take up less vertical space than a typical 9.5mm drive.
The drive will be a part of Western Digital's Blue series of hard drives, and the 5mm drive is able to be so thin because of a tiny edge connector that combines both power and the SATA transfer interface, which leaves more room for the hardware to do its thing. Although, with its 5mm form factor, everything is squeezed in there rather tightly.
This marks the return of Western Digital back into the full production process. After the 2011 tsunami and earthquake over in Asia, Western Digital and other component manufacturers suffered setbacks and were unable to produce hard drives temporarily. However, the company got back on track last year, and took over the top spot in the hard drive market with $4.8 billion in revenue and 71 million hard drives produced during Q4 2012.
While the UltraSlim is definitely something to admire, this isn't the first 5mm drive we've seen. A*STAR unveiled their own 5mm hybrid drive last year, and it packs in a whole 1TB of storage. Then again, the company has yet to ship the new drive, so Western Digital is certainly the first out of the gate it seems.