Waymo is down to one patent in its self-driving Uber lawsuit
Waymo has dropped all but one of the patent infringement claims it's challenging Uber over in court, as the two companies fight over self-driving car tech. The Alphabet-owned company had accused Uber of infringing on four different patents related to autonomous driving, filing a lawsuit back in February. According to Waymo, its former employee Anthony Levandowski had stolen a cache of technical documents about the company's developments and taken them to set up Otto, a self-driving vehicle startup later acquired by Uber.
Levandowski opted to plead the fifth during the trial, despite demands by Uber that he collaborate with the ride-sharing company's legal team on a defense. The engineer was later sidelined from his role as chief of the Advanced Technologies group while the case was ongoing, warning fellow employees not to discuss anything to do with Uber's work on autonomous driving. Eventually, Uber opted to fire him altogether.
That still didn't squash Waymo's accusations, of course. What has happened, though, is a paring back of the claims that will be heard in the case. Three of the four patent infringement claims have been dismissed voluntarily, Recode reports, in recognition of the fact that Uber has already ceased using the design of the LIDAR laser-scanning sensor under contention.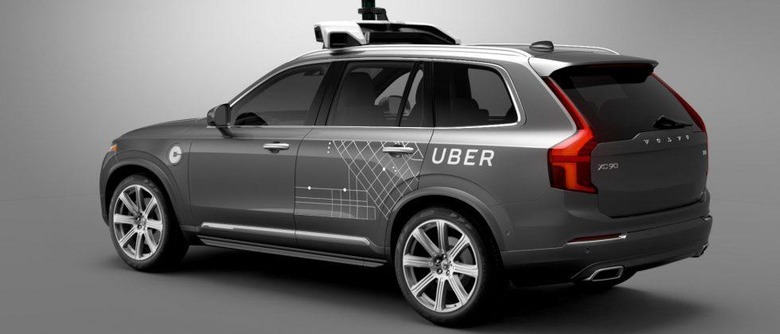 Instead, the case will now focus on Uber's current design, codenamed Fuji. A Waymo spokesperson argued that, having found in the discovery process that the previous scanner, Spider, was created by Levandowski using technology that infringed its patents, it was satisfied with Uber's promise to retire the devcie. "Uber has assured the court in statements made under penalty of perjury that it no longer uses and will not use that device," the spokesperson said, "so we have narrowed the issues for trial by dismissing the patent claims as to that device, with the right to re-file suit if needed."
From Uber's perspective, however, this is not a simplification but a sign that Waymo's case is weakening. In a statement, a spokesperson described the decision as a "retreat" and that Waymo had "overpromised and can't deliver" on its allegations. "Not only have they uncovered zero evidence of any of the 14,000 files in question coming to Uber, they now admit that Uber's LiDAR design is actually very different than theirs," the spokesperson argued. "Faced with this hard truth, Waymo has resorted to floating conspiracy theories not rooted in fact, doing everything they can to put the focus on sensation rather than substance."
Whether US District Court Judge William Alsup of the Federal District Court in San Francisco sees the same conclusion remains to be decided. He'd previously suggested to Waymo that it was in its best interests to drop its patent claims, warning the Alphabet company that it was unlikely to win the case based on them.
Meanwhile, Uber has said that Levandowski – before asserting his fifth amendment rights, and subsequently leaving the company – told former CEO Travis Kalanick that he had downloaded the Waymo document cache as an insurance policy of sorts. Google, Levandowski claimed, had promised the engineer a $120m bonus, which he was concerned whether he would receive in full.