Watch SpaceX's Starhopper rocket test get a fireball finish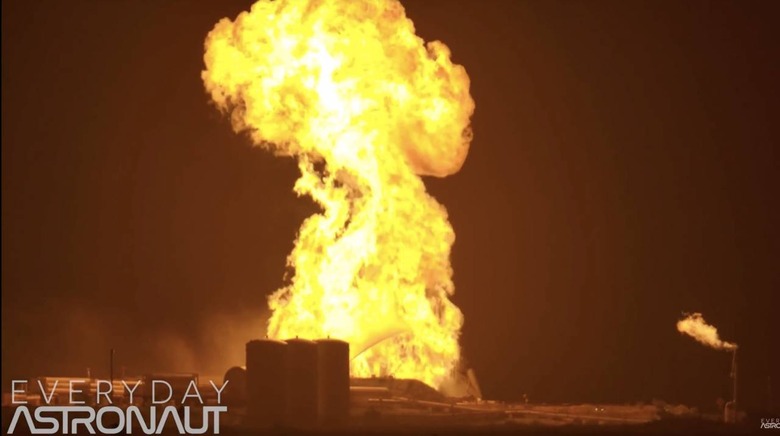 SpaceX's Starhopper rocket test was supposed to be a simple trial of the rockets that will one day power the SpaceX Starship. Instead, it turned into a dramatic fireball. The test on Wednesday evening this week was going smoothly, but after around five seconds something unexpected happened.
It's a static-fire test – which means the spacecraft isn't intended to take off, and is instead tethered down – of a smaller, prototype version of the ship SpaceX hopes to one day send to Mars. The company used a new Raptor Engine, a staged combustion, methane-fueled rocket engine that SpaceX has developed itself.
Using subcooled liquid methane and subcooled liquid oxygen, each Raptor is expected to have roughly twice the thrust of the Falcon 9's Merlin 1D engine. That's in part down to it being more efficient, though SpaceX also says the engine should have a longer life than previous designs. Of course, before it can be used to send colonists to Mars, SpaceX needs to test it.
That didn't go as planned. A few seconds into the static-fire test, the Starhopper was engulfed in flames. This video of the event from Everyday Astronaut shows the inferno, which continued for approximately four minutes. It's unclear at this stage what caused the burn.
Still, with the amount of fuel onboard, it's hardly difficult to imagine a few ways that things could do slightly wrong. SpaceX is yet to give any details as to what might have ignited the rocket – though there's speculation that an ill-timed fuel dump could have triggered it – or, indeed, what the fate of the Starhopper itself is.
It's not the prototype's first test, and indeed previous trials have gone far more smoothly. Back in early April 2019, for example, a test flight went without hiccup, albeit with Starhopper tethered to the ground for safety. SpaceX had planned an untethered test, with Starhopper rising to around 65 feet, but that may well be delayed as this fireball incident is investigated.
The eventual plan, though, is for the SpaceX Starship to use six Raptor engines, while the Super Heavy rocket that will initially launch it will have a whole 31. Starhopper is designed to sport three at most.