Watch Lucid Motors Air EV ace its 217 mph performance test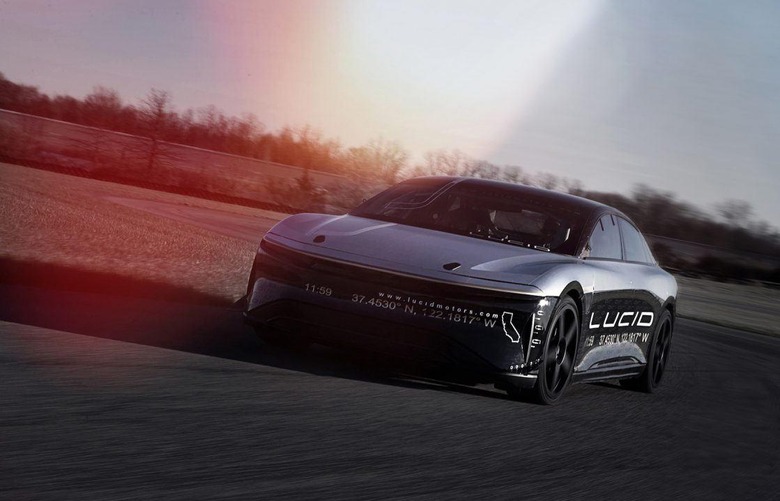 Lucid Motors has taken its Lucid Air electric car to the New York Auto Show, and it has a new 217 mph high-speed test under its belt to convince enthusiasts to ignore the Dodge Challenger SRT Demon. Though it was unveiled in December last year, the NYIAS is actually the Lucid Air's first auto show. Preorders have already begun, though the car itself won't begin deliveries until 2019.
Ridiculously high speeds and crazy acceleration have become the hallmark of the modern electric car, as they attempt to play up their performance abilities alongside eco-credentials. To that end, Lucid has earmarked one of its Air Alpha prototypes as a high-performance test vehicle, complete with a roll-cage that won't be found on the production car's options sheet. Then, they took it to the track.
Specifically, the 7.5 mile oval at TRC Ohio, where for its first track debut the so-called Alpha Speed Car cranked things up to 217 mph. That, Lucid claims, was an artificial limit of the company's own installation. It's unclear just how fast the Air could go without such limits in place.
It wasn't just speed in a straight line (or, more accurately, in a circle). The Alpha Speed Car was also used to figure out vehicle stability at the edge, along with highlighting any thermal management issues for the powertrain that might not present themselves in bench testing. Later this year, Lucid says, it'll be repeating the tests at higher speeds.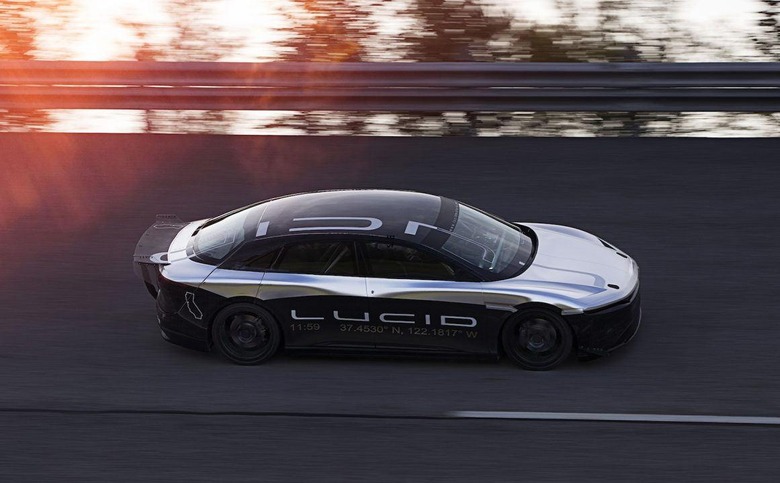 While it might sound like performance for its own sake, the automaker insists that these sort of tests do have real-world applicability. Many drivers have "an expectation of high-speed cruising that Lucid intends to satisfy," the company says. Indeed, it promises greater efficiency from a larger electric motor than you'd get from a smaller version, while the aerodynamics that allow for sky-high top speeds are just as useful at helping the production Air reach the expected 100+ MPGe EPA economy figures.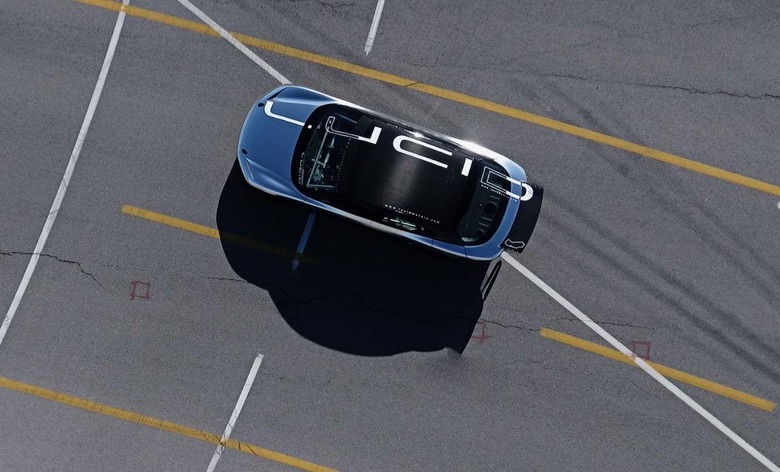 How close the Air actually comes to that, we'll have to wait to find out. Lucid Motors has optimistic plans to build 10,000 cars in its first twelve months of operations, producing the Air in various configurations at its Casa Grande plant in Arizona. Pricing starts at $52,500 after federal tax credits, for 400 HP piped through the rear wheels, and a range of 240 miles.
However there'll be plenty of options – including batteries that boost the range up to 400 miles – and the ability to throw in dual electric motors for all-wheel drive and up to 1,000 horsepower. Indeed, pricing for a fully-loaded Air will exceed $100,000, putting the luxury EV sedan up against some serious competition from Tesla as well as the more established, predominantly gas-powered cars from German marques like BMW and Mercedes-Benz.