Walmart iPhone 3G rumors continue: 8GB for $197 on Dec 28th?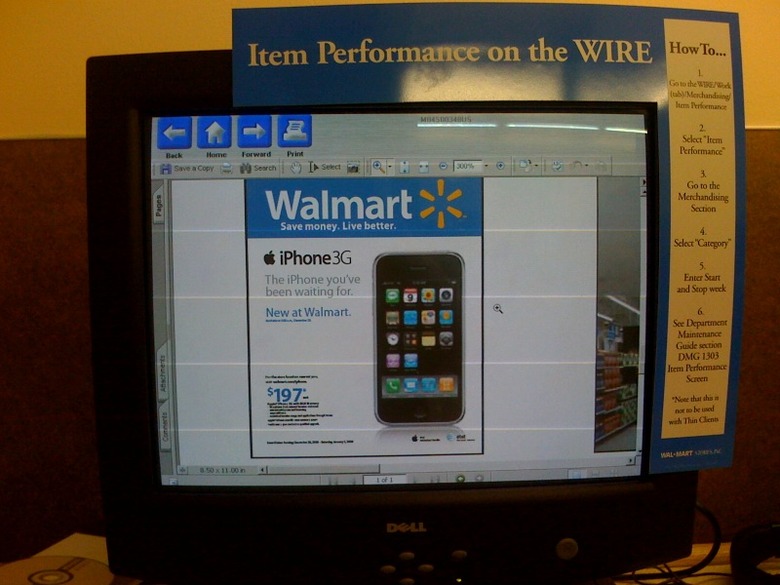 More iPhone 3G rumors swirling today, as conflicting news about Walmart becoming the next official handset retailer comes to a head.  Last week, the word was that a $99 iPhone 3G with just 4GB of storage would go on sale at Walmart; today, both Reuters and Bloomberg are suggesting the same thing, with a December 15th launch date tipped from a Californian Walmart clerk.  However, Mac Rumors reports that leaked promo material confirms that, while Walmart will be selling the smartphone, it will be the existing 8GB model with a mere two dollar saving.
According to Mac Rumors, they have received training material and advertising from a source connected with Walmart that lists only the 8GB iPhone 3G.  This would therefore be the same model on offer at Best Buy, AT&T and of course Apple Stores, only Walmart would apparently be selling the handset for $197: two dollars less than the standard MRSP.
They go on to suggest that the actual launch date will be December 28th, almost two full weeks after the Bloomberg tip.  That would miss the Christmas sales period.  Right now, we're not sure of anything other than the fact that it really does look like Walmart will be getting the iPhone 3G.