Wacom MobileStudio Pro 13 Review: The Obvious Best Choice For Illustrators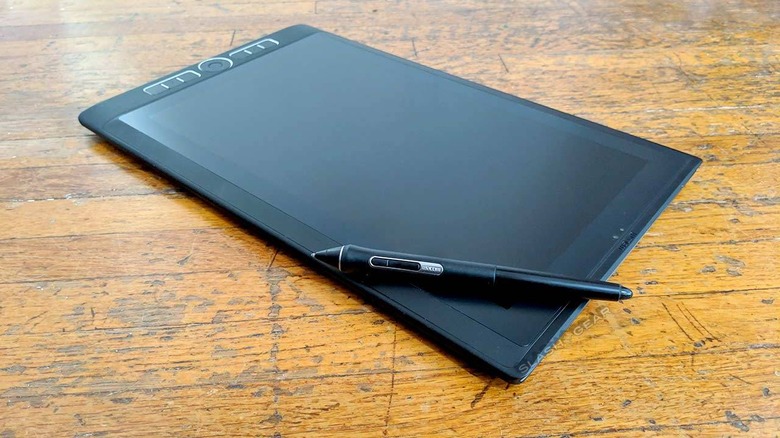 EDITORS' RATING: 9/10
The Wacom MobileStudio Pro 13 is the no-compromise version of every other stylus tablet or phone on the market today. This device has the Wacom Pro Pen 2, the most idyllic digital stylus I've ever used – and quite possibly the best digital stylus available in the world today. While other machines aim to fill all your needs at once, the Wacom MobileStudio Pro 13 is a creative tool that's focused squarely on that one role. This is an illustrator's tablet.
Why the long face?
The MobileStudio Pro was announced all the way back in late 2016 and was released in early 2017. Normally we review devices not long after release – and sometimes before release. The vast majority of reviews we do on SlashGear are of smartphones, cars, and the occasional accessory.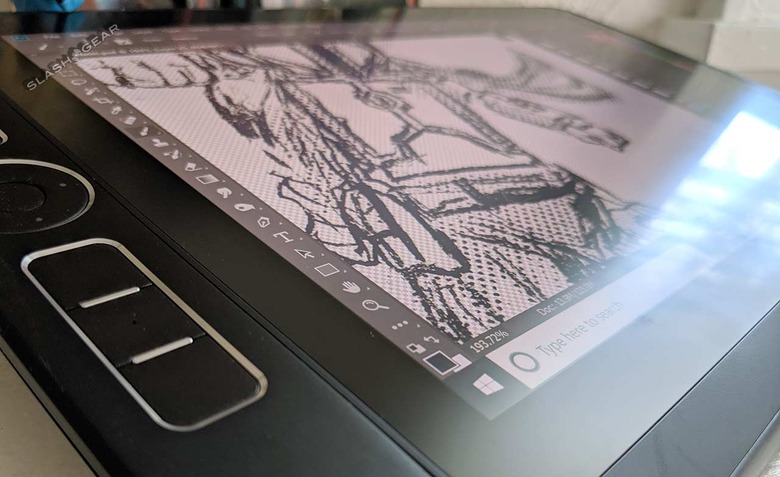 I sent request to Wacom for a review loan of this device. In the last couple years we've been expanding to creative devices and tools, and I couldn't imagine moving forward in that arena without one of Wacom's MobileStudio devices onboard.
While you'll undoubtedly read this review two years (or more) after the initial release of the Wacom MobileStudio Pro 13, the device does not feel like an outdated piece of technology. In a world where we get new designs on new versions of devices every year – and in some cases twice a year – Wacom's now two-year-old tablet feels comfy and current.
Wacom's industrial design holds up. The hardware holds up, the buttons all continue to function and remain useful, and software features remain swift.
VS larger Wacom Cintiq device
I'd reviewed a Wacom Cintiq 27 QHD Touch back in 2016 and came away suitably impressed. I wanted to see if Wacom offered that experience on a smaller scale, on a device that was self-contained, and did not require such a massive investment of cash and space.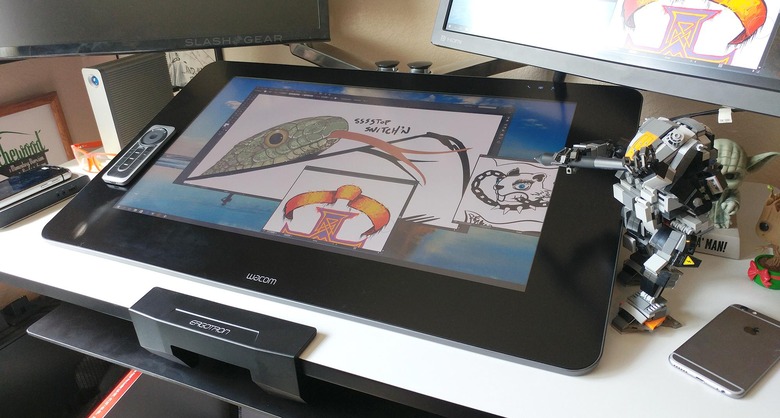 As it turned out, the Wacom MobileStudio Pro 13 didn't only offer a smaller version of the Cintiq experience, it offered a better experience overall. The number one reason I like this newest device is the decreased space between the display and the display glass. The one gripe I had with the Cintiq was that gap – and here it's gone.
The Stylus
The Wacom Pro Pen 2 needs no batteries. It has weight to it – but not too much weight. It's big, but just the right amount of big. This stylus is optimized for this computer, and this computer works with the pen for pixel-level positioning. This is as closest I've ever seen a stylus get to a real pencil on paper – with most of the positive features and none of the negative.

This stylus comes with a set of several tips – you don't get just one replacement, like the Apple Pencil. You don't get just a couple, like other stylus competitors. You get a whole team of tips.
Wacom includes a stylus dock that plugs in and locks on the side of the tablet in the device's Kensington Security Slot. I tend to avoid using this accessory as I'm worried it'll break if I ever accidentally drop the whole setup – but it's nice to know I COULD use it if I did so choose.
Without accessories, the Apple Pencil is too narrow for my hand to use comfortably. For the Samsung Galaxy Note series, that goes double. Both are fine for short-term use, but when I'm drawing for hours on end, the only stylus that's ever left me without cramps was this Wacom Pro Pen 2.
The most recent stylus provided with the Microsoft Surface Pro is decent. It's got a similar feel to this Wacom stylus, but it's still a little too small for my hand. The Wacom
The Glass
Unlike some of its most major competitors, this device has a matte glass panel in front of its display. This display glass is ideal for this sort of device. Where the iPad continues to be delivered with a super shiny, reflective display glass, this Wacom machine has glass that's resistant to reflection, resistant to fingerprints, resistant to basically anything that'd get between the user and the display light and detail.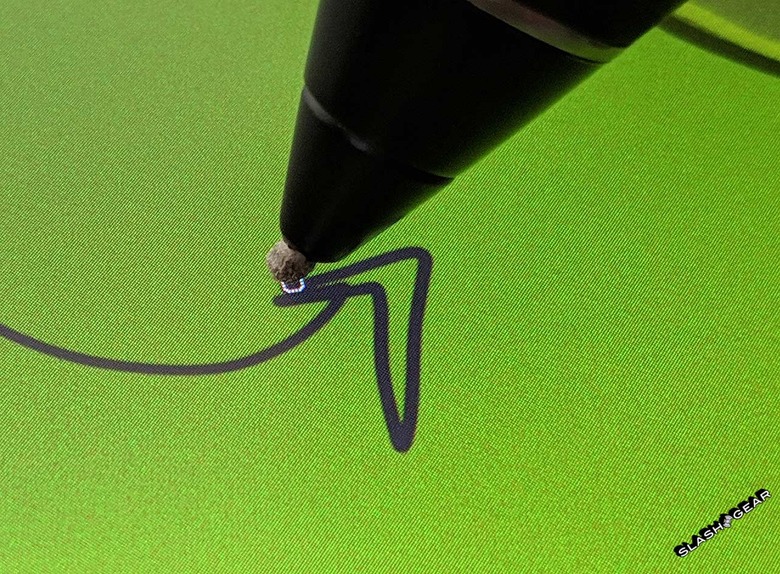 The physical properties of the tablet's display glass combined with the stylus' tip makes for an experience unlike any other. Here we're certainly better off – and closer to real physical artist tools – than all the other plastic-on-glass solutions.
The Buttons
An array of buttons on the lefthand side of the display can be programmed by the user at will. Each of these buttons can be custom-fitted to an array of functions, specific to each environment and individual app.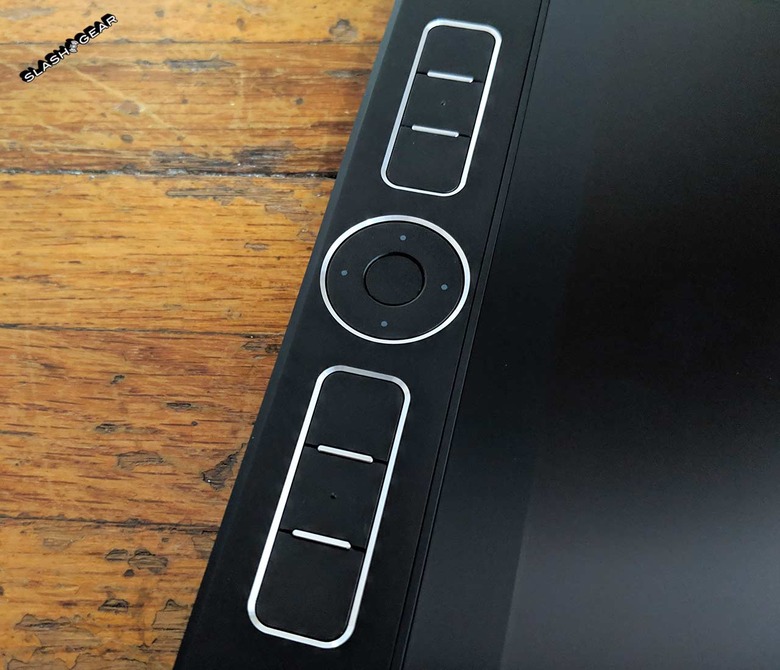 When I'm on the desktop, one button can work just like "TAB". When I'm in Photoshop, that same button can automatically be switched to "SHIFT". The "Touch Ring" on the left is touch-sensitive, so I can set it to dynamically change the size of my brush head, or adjust my device audio.
Battery Life
In easily the most unfortunate turn of events, this device does not have very long battery life. I've gotten as much as three hours (or so) of working time on this device after a full charge. The charging of this device is done with the USB-C charger delivered in the box.
This isn't the sort of device you bring with you on an overseas airplane trip. It won't last. Not unless you've got power ports onboard. If you've got the ability to stay plugged in – no big deal!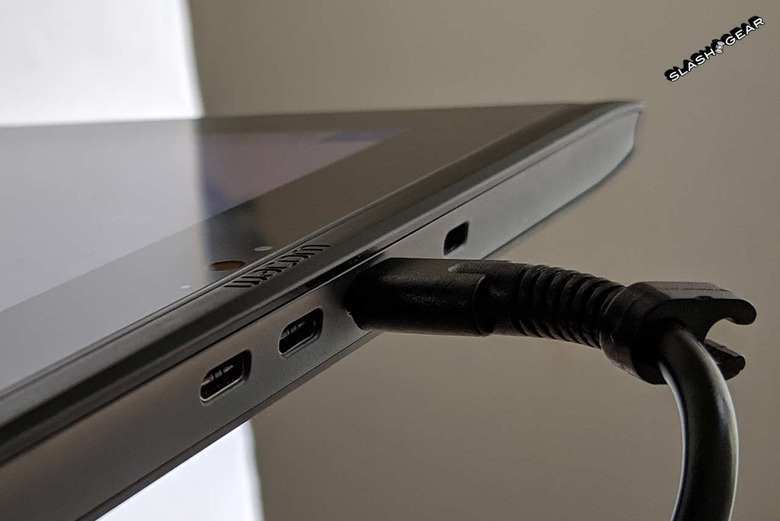 Padding and Comfort
On the back of the tablet are a pair of soft plastic risers with rising sides – like the whole thing is one very lengthy miniature halfpipe for skateboarding. These plastic parts allow the back of the tablet to stay above flat surfaces, and act to sort of hang on to all manner of surfaces.
The entire tablet is heavier than you might expect, but still not nearly too heavy to lift comfortably with one hand. This model weighs in at approximately 1420 g / 3.13 lbs.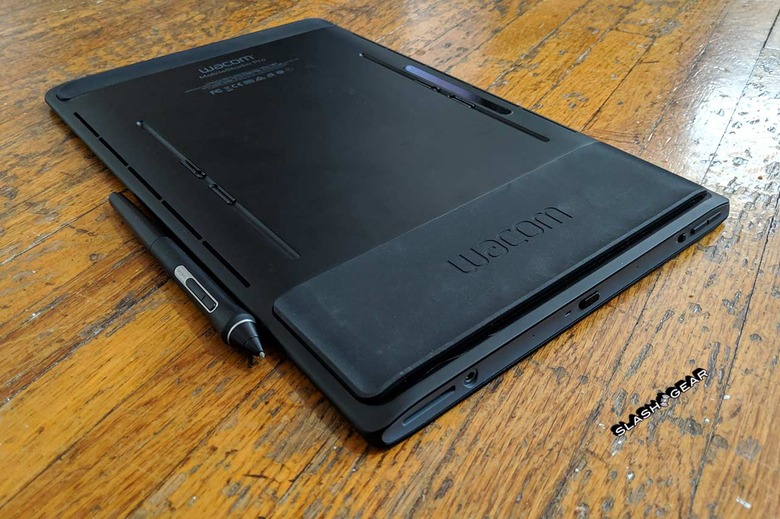 More to say, have you?
This is the main bulk of the review for this device, but we've got more to say. First, head over to the first of this series, an article by the name of Wacom MobileStudio Pro 13: King of stylus PC balance, but for whom? Then stay tuned for our comments on all the bits we've not already covered.
Several different internal builds for this tablet exist. We're using the Wacom MobileStudio Pro 13 (there's also a 16), and three different configurations can be had. The Intel Core i5 processor, 128GB SSD version will run you approximately $1500 USD.
The Core i7, 256GB SSD version of this tablet will cost you closer to $1700 USD. On the high end you'll find the Wacom MobileStudio Pro 13 with Intel Core i7 processor and 512GB SSD for around $2200 USD. You'll find some of these in Wacom's online store, and others at your favorite artist and designer-friendly place of business.