Wacom Inkling hands-on [Video]
Wacom's new Bamboo tablet range allows you to cut the cord between your artwork and your computer, but the company's Inkling digital pen allows you to walk out the door and sketch anywhere. Announced last month, the chunky stylus – and its companion clip-on receiver – can turn any regular notepad into a digital art studio, not only wirelessly memorizing your drawings but throwing in pro-level features like layer support too. We grabbed some hands-on playtime with with Wacom Inkling to see if it's really a doodler's dream; check out our first-impressions after the cut.
We've seen digital pens that can turn a notebook into a digitizer before – Livescribe's smartpens leap to mind – but Wacom is keen to underline the differences between the Inkling's focus and that of other products. Whereas Livescribe's pens are intended to track a mixture of handwriting, brief sketches and other mixed content, the Inkling is dedicated to drawing.
In that respect, the promise is simple: clip the compact receiver box to the top of your notepad – it'll handle up to A4 sized paper – and power on with the left button. A combination of infrared and ultrasound are used to track the special battery-powered pen, which means you'll need line-of-sight between the nib and the receiver, but beyond that it's a case of sketching away to your heart's content. What makes it particularly clever is the layer button; tap that and the Inkling stores your subsequent sketches to a new layer (you can save as many as will fit in the receiver's 2GB of storage, each a space-efficient vector file).
Wacom Inkling demo:
[vms 61f8f06494c97b1afccf]
Those layers become useful when you hook the receiver up – via microUSB – to your computer. The new sketches are automatically sucked into Wacom's Sketch Manager app, and you can then see the entire drawing as well as hide individual layers. It's even possible to watch an animation of the whole drawing process, though you can't currently export that as a video file; Wacom told us they are considering that functionality for a later upgrade. What you can do, however, is snip sections of one layer out into a new layer, isolating different parts of the picture.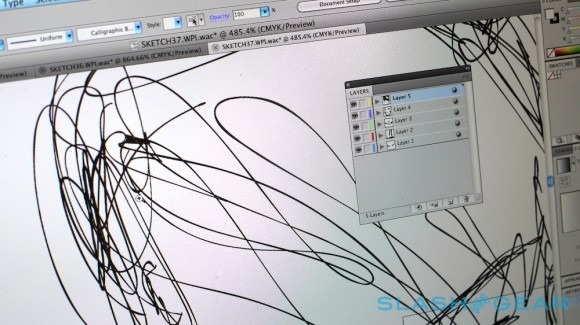 From there it's a case of exporting to one of the supported apps – Photoshop and Illustrator are the most likely candidates (both CS3 or later), but Autodesk SketchBook Pro and SketchBook Designer (2011 or later) are possible too – whereupon all the layer information is carried over and you can edit, color and generally tweak as normal. Quality is surprisingly high, with smooth curves even at high levels of zoom.
It's not entirely perfect. The included carry-case/charging box feels a bit thrown-together, though it does at least have space for the (standard) black ink refils, USB cable, both receiver and pen, and allow you to charge each from a single USB hook-up. Wacom tells us that this is still pre-production hardware, so things will hopefully be more sturdy by the time the Inkling hits shelves.
Still, even as the merest amateurs of artists, we weren't surprised when Wacom said it had been inundated with interest after announcing the Inkling last month. The simplicity of the capturing process and the ease with which even complicated sketches can be later managed is brilliant, and we can imagine that "proper" artists would be able to use the Inkling as a real tool rather than a gimmick. The $199 price-tag when the Inkling goes on sale imminently could be the biggest block to ownership, though if you've ever found yourself wishing you could keep whatever you doodled in the margins of your notebook it may still be worth it.