Wacom Inkling Converts Ink Drawings To Digital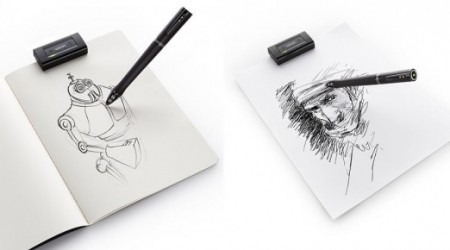 Wacom has long been known in the digital art community for its array of peripherals, especially its digital pen tablets. Drawing with a digital stylus is easier than with a mouse obviously, but still, nothing compares to drawing with a real pen on paper. And that is exactly what Wacom will address with its latest product called the Inkling.
The Inkling is a new creative tool that will digitally capture what you draw as you draw it in real ink on real paper. It comes in a self-contained kit that consists of a receiver and a pen. The receiver can be attached to the edge of any paper medium you plan to draw on and detects the pen via an ultrasonic and infrared link.
The receiver records your strokes as you draw and can record up to 1024 levels of pressure. It can even record your strokes onto different layers with a push of a button, which comes in handy if you're using layer-based applications like Adobe Photoshop. And since it uses a real ink pen insert, when you're finished you'll have both a physical pen drawing and a digital copy of it, that can be exported as either a vector or bitmap image.
Both the receiver and pen contain rechargeable batteries and are charged by USB while sitting inside the Inkling storage case. It takes 3 hours to reach a full charge, which offers 8 hours of drawing time. The Inkling kit is priced at $199 and will be available in mid-September.
[via Geek]