Wacom Bamboo hands-on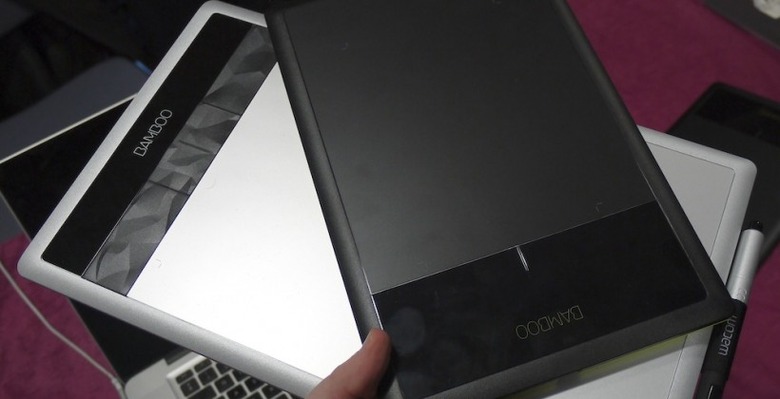 Wacom's tablet heritage is well known to anybody who has gotten serious about computer artwork, and with a range of Bamboo models freshly announced we caught up with the company to see what was new. Targeted at the entry-level and mid-tier markets, with prices kicking off from $79.95, the Bamboo Connect, Bamboo Capture and Bamboo Create (aka the Touch & Pen range in Europe) attempt a double-whammy of not only courting artists but replacing your mouse, too.
Even with the smaller models you'll need to be used to a fair sized mousemat if the Wacom alternative isn't to feel over-scaled. We can't argue with the active digitizer's accuracy, however; the lightweight (and battery-free) stylus supports both actual taps against the tablet as well as hovering, while the barrel mounted buttons are accompanied by some user-configureable buttons on the base unit itself. These can be easily tapped with a finger or with the tip of the pen, and are easily enough pressed so that we don't expect they'll blunt the nib.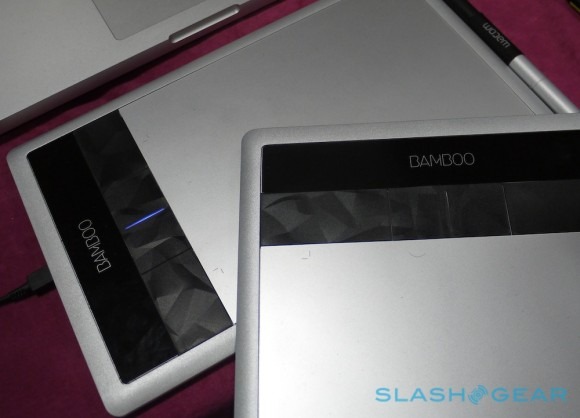 Style-wise they're all thin and, thanks to plastic rather than metal construction, lightweight. That's important when you consider that Wacom is also offering an optional wireless dongle set, allowing you to scoop the tablets onto your lap and work remotely. All but one model is finger-touch enabled, and the MacBook Pro Wacom had its demo units hooked up to was happy to treat the Bamboo as an even bigger trackpad.
As we reported yesterday, the Bamboo Connect will be $79.95 (£49.99 in the UK), while the Bamboo Capture will be $99.95 (£89.99) and the Bamboo Create $199.95 (£169.99). The Wireless Accessory Kit will be $39 or £34.99.