Wacom Cintiq 12WX reviewed: impressive but contentious?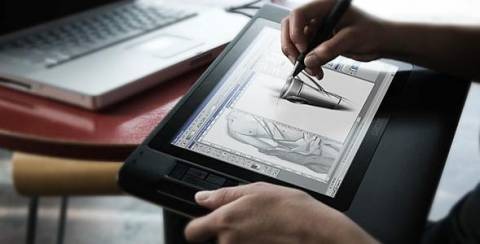 Wacom are known for their huge Cintiq LCD displays with pen-input, but the company also makes a smaller, 12.1-inch model intended to be used in your lap.  At $1405 it could hardly be called entry-level, but it has the same 1024 levels of pressure sensitivity, 5080dpi resolution and pen-tilt awareness as its bigger siblings.  PC Authority have been trying out the 16:10-aspect 1280 x 800 monitor, and judging by their 5/6 rating they seem impressed.
The draw with these tablet-LCDs is the immediacy of drawing straight onto a screen, rather than using a plain tablet and looking at a separate display.  PC Authority aren't entirely convinced with the 12WX's 180cd/m2 brightness nor its color accuracy, but they heap extra praise onto its usability and accuracy.
"Drawing on the screen is a dream – it's responsive, precise, and with practice it's possible to generate some spectacular results" PC Authority
Thing is, SlashGear has heard a very much conflicting opinion on the Cintiq 12WX, from reader Tom Wingo.  Tom had to send his 12WX back after ongoing problems with poor accuracy and jitters along the edges of the display:
"Well after spending a month with my new WACOM Cintiq 12 WX I found that I could indeed live without it. While it's the perfect size and what I've always wanted, reality has shown me that WACOM dropped the ball on this Cintiq terribly. The 1280×800 screen squished down to 12 inches was tough on the eyes when using FLASH. However, the biggest issue that I've also heard from other users is the poor accuracy and jitter of the pen in the corners and along the edges. I've used the larger Cintiq and am used to a small amount of jitter but the 12WX was terrible. In fact when I contacted WACOM their tech support who had a tablet near the phone reported that theirs was just as bad. They attributed it to the internal switched power-supply for the display and that there was no way to fix the problem." Tom Wingo, SlashGear commenter
I've got a request for comment in with Wacom's press department; it's possible that since Tom sent back his Cintiq they've changed the power supply or otherwise fixed what sounds like interference between the wireless pen and the tablet layer.  I'll update this post when I hear back.