This van version of VW's electric Microbus could beat it to market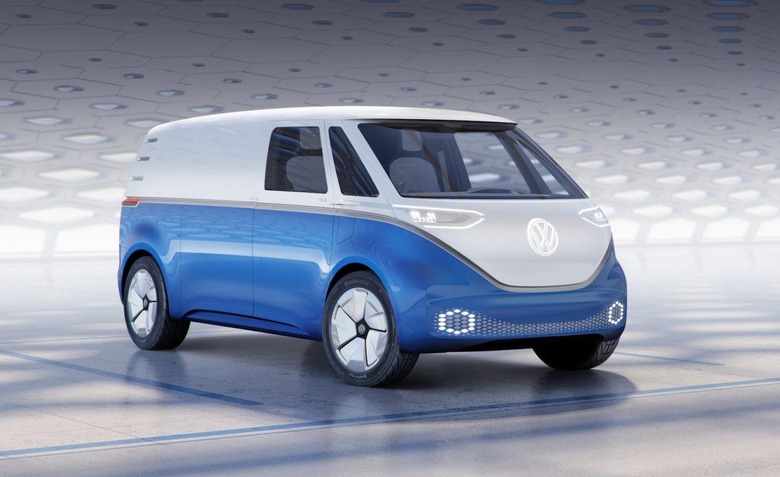 Volkswagen's electric Microbus has spawned a cute commercial cousin, with the I.D. BUZZ CARGO previewing VW's vision of the urban workhorse of tomorrow. Based on the same Modular Electric Drive Kit (MEB) as the I.D. BUZZ concept, which the automaker plans to put into production from 2022, the van variant could actually beat it to the road.
That's because, while this I.D. BUZZ CARGO concept does have all the nods to autonomous driving that are currently fashionable, it's based on very real – and near-production-ready – technology. The transporter concept envisages Level 4 autonomy being used, so that the van could effectively drive itself from location to location without requiring a human operator behind the wheel.
There's still a driver's seat, mind, in front of an augmented reality windshield and cameras replacing the side mirrors, along with a double bench-seat on the front passenger side. The middle seat can be folded down, revealing a workstation with an integrated laptop. Pushing in the steering wheel engages the self-driving mode, VW says, allowing the seat to be rotated 15-degrees toward the laptop, and the operator to get on with work while the I.D. BUZZ CARGO pilots itself.
It's not the only interior customization, mind. In fact, VW has completely reworked the inside of the van, versus what we've seen from the original I.D. BUZZ concept. A bulkhead separates the seats from the cargo compartment, where a smart shelving system has been installed. That can report packages and other items to the van's central network, allowing everything to be tracked. If a parcel gets taken out, the I.D. BUZZ CARGO will know about it; similarly, if tools are left unsecured, or are missing altogether, the vehicle will flag that before departure.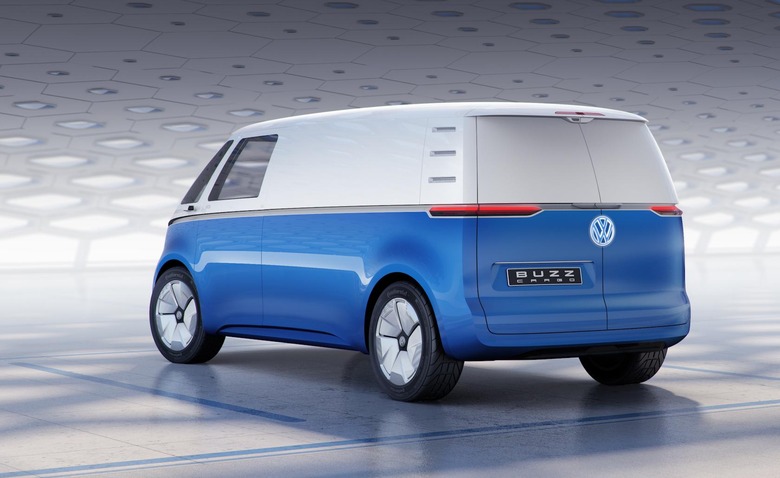 It's around 4-inches longer, too, than the original electric Microbus concept, courtesy of an extended rear overhang. At just shy of 199-inches in total length, 77.8-inches wide, and 77.3-inches tall, though, it's still eminently suited to urban duties. It's rated for a maximum payload of 1,760 pounds, and sits on 20-inch wheels.
On the top, there's a new solar roof which VW says can add up to 9.3 miles of range per day, weather permitting. The rear doors have been redesigned to open wider, and there's no sliding door on the driver's side. Both the front doors and the passenger-side sliding door open electrically, recognizing a smartphone-based digital key.
While some of the more high-tech features like the self-driving abilities may still be a fair way out, VW is pretty confident that an electric van of this sort is practical if you look beyond the Level 4 glitz. The MEB uses a 48 kWh battery, slung low in the wheelbase to keep the center of gravity down and maximize the available internal space. It drives a 201 horsepower electric rear motor in this concept, though an all-wheel drive version would be just as feasible.
Top speed is limited to 99 mph, but it could also be used for other purposes than driving. 230V (16A) outlets in the back could be used to run power tools, for instance. Maximum range is around 340 miles on the European WLTP cycle, though VW points out you could fit up to a 111 kWh battery if you needed to cover greater distances. With fast charging at 150 kW, just like Electrify America is rolling out for the Audi e-tron and Porsche Taycan, the I.D. BUZZ CARGO could go to 80-percent charge in 15 minutes for the 48 kWh version, or in 30 minutes for the 111 kWh model. Alternatively, wireless charging could be used for 11 kW top-ups without plugging in.
The result is a zero-emissions panel van that, Volkswagen says, could theoretically launch as a production version as soon as 2021. Whether that happens will depend in no small part on how the I.D. BUZZ CARGO is received by potential customers at the IAA Commercial Vehicles expo in Hannover this week.